Huskies punch their downstate ticket
Auden's OT goal sends North to state semifinals
CLICK HERE FOR PHOTO GALLERY COURTESY OF SCOT BUTLER
CLICK HERE FOR PHOTO GALLERY COURTESY OF HARRY BULL
By Gary Larsen
Photos below courtesy of Harry Bull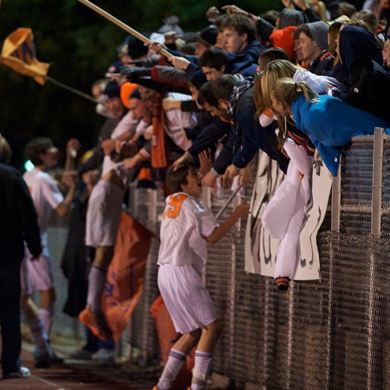 Naperville North is headed to the Big Dance, and had to beat the Big Dog to get there.
The Huskies slugged things out with defending state champion and top-ranked Lyons Township in Tuesday's super-sectional game, until Max Auden delivered the knockout – an overtime goal that gave his side a 3-2 win and sent North to the state finals.
Auden got on the end of Evan Trychta's free kick and buried a game-winning head shot, and then he raced to the stands at Hinsdale Central and took a Lambeau Leap up towards North's student fan section.
"It's unbelievable. It's a dream come true right now," Auden said. "But we're not done yet. Two more games and then we can celebrate."
The Huskies will take on Libertyville in a Class 3A state semifinal match on Friday, at North Central College in Naperville. It will be North's first state finals appearance since 2002.
"It's like nothing else, just screaming and happiness," North senior Jimmy Butler said of Tuesday's win. "We're so happy to have this chance. We haven't been here in a long time and we're glad to be here."
In Lyons Township (22-2-2), Naperville North (21-2-2) took on a team that played like a defending state champion, as the Lions fell behind twice but twice fought back to tie the game.
North was 21 seconds away from victory with a 2-1 lead when the Lions' Austin Wolff scored to tie the game at the end of regulation. North also gave up a late, tying goal in its sectional title game against Neuqua Valley before winning in a shootout.
It might have been familiar ground for the Huskies, but having a win taken away with 21 seconds left was hard to swallow.
"It's worse than getting hit in the stomach," Konrad said of Wolff's late goal. "But we learned from that Neuqua game, and all of our games have been tough. We've either had to hold on to win, or given up a goal late and had to suck it up through overtime.
"The good thing is they're young kids and they're still (naïve) enough to think 'well, we're okay'. They just believed that they were going to do it."
A scoreless first half saw LT keeper Kevin Beglen go without making a single save, and North keeper Kevin Anderson make two saves – both of which came on the same play. Anderson stopped an initial shot in traffic and then dove to deny LT's Elliot Borge.
Just as they did against Neuqua Valley, North struck early in the second half to take a 1-0 lead. Joe Sullivan sent in a corner kick at 46 minutes and Butler buried it at the near post.
"I ran past Evan, turned the corner, and the ball was pretty much on my head," Butler said. "It was a perfect ball by Joe."
"Curve-ball, near post," Sullivan said. "Jimmy just came off a curl and hit it in."
LT rushed up the field after Butler's score and sent a ball off the post, and tied the game on a Kralovec-Kirchherr throw at 56 minutes that flew to the near post, where Kyle Kurfirst flicked it into net.
LT's lead lasted less than a minute. Trychta made a touch across the top of LT's penalty area around a fallen defender and sent a shot past a charging Beglen.
The Lions used steady pressure and a barrage of long Kralovec-Kirchherr throw-ins to put the Huskies on their heels to the end of regulation play, capped by Wolff's late goal, and went into overtime with momentum on their side.
Konrad's message to his troops heading into overtime was simple.
"Look how happy they are that they're in overtime. They think they've got you," Konrad said. "Let's go out and get it."
"It was definitely hard but Konrad kept saying 'we're going to get the next goal. We're going to win this'," Auden said. "Disappointment definitely set in but right after that we put our heads back up and we knew it was coming. We just had that feeling. It's our year."
Auden's second goal of the year came less than a minute into the second overtime on a perfect free kick from Trychta from 30 yards out.
"When Evan hit that ball and they didn't track, you see Max break in and you knew if he just gets on it…" Konrad said. "And then it's 'don't go wide, don't go wide'. We knew we needed a restart and we needed to get that one chance and finish it."
North lost 3-1 in early September to a Jesuit team from California that is currently unbeaten and ranked No. 2 nationally by the National Soccer Coaches Association of America
Has North faced a better team from Illinois than Lyons Township?
"No," Butler said. "Their touch on the ball, they're big and physical, they dominate, but I thought it was a really hard-fought game by both sides."
Sullivan, Andrew Adcock, Bryan Kanzler and the Huskies' midfield battled tooth-and-nail against the Lions.
"All their center mids were big, tall, and strong," Sullivan said. "They won every ball in the air, and they were quicker than us. Their center mids are nasty. We just had to battle as hard as we could."
LT's two goals on Tuesday marked only the second time this year that Anderson and defenders Butler, Auden, Lee Grander, and Jack Henderson had allowed more than a single goal in a game.
Tuesday's game also marked the fifth consecutive postseason game in which Trychta scored a goal.
"Evan didn't have one of his better games. LT, in the back, is so tough," Konrad said. "Typically Evan can beat people athletically but tonight he just couldn't. We had to get the ball off our foot quicker because if we played one-vee-one, they were stuffing us.

"But he's a prime-time kid. He has a goal in every playoff game, and he got the assist to win it tonight. I don't care if he sits on the ground for 78 minutes, if he scores a goal in that last two minutes, that's fine."
Naperville North finished fourth in Illinois in both the 1987-88 and the 2002-03 seasons, and Konrad was an assistant under hall-of-fame coach Dave Bucher when North won the state title in the 1998-99 season.
The Huskies take on a team in Libertyville (20-3-2) that – like the Huskies – has enjoyed a No. 1 ranking in the local press this season. The Wildcats play hard and physical soccer, which should make for an interesting semifinal match on Friday.
"They're like us. It'll be a good fistfight in the Final Four and we'll see who's standing in the end," Konrad said.
North graduated a pair of all-state players from last year's side in Chris Boswell and Mike Wiest, and Konrad didn't figure that this year's team would be the one that returned the program downstate.
"It happens when you don't expect it. We expected it next year," Konrad said. "We had next year pegged away as the year we might have a chance to do something special."
Butler played a bona fide senior leader's role throughout Tuesday's game, and he thinks his side is ready to make a run at a state title.
"If you had asked me at the beginning of the season, I wouldn't have seen this outcome," Butler said. "But through the season I think we've grown together and become really close. We know we can do something now. I have faith in this team and I believe in this team."