Huskies finish fourth in 3A
Expectations should remain high in 2011
CLICK FOR PHOTO GALLERY COURTESY OF SCOTT BUTLER
By Gary Larsen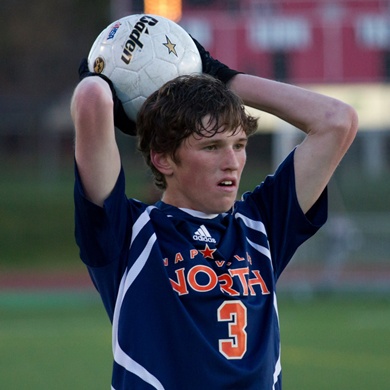 Program history will show that when Naperville North scored two goals in a game in 2010, the Huskies went a perfect 12-0.
Until the weekend of the state finals.
A rough Friday gave way to a rough Saturday for North, which lost 3-2 against both Libertyville and Edwardsville to finish fourth in Class 3A this year.
"We're giving up goals like it's our job," North coach Jim Konrad said. "It was disappointing to come back, tie it up and then find a way to lose in overtime again. It was not a good weekend for the Huskies, obviously."
Both losses came on overtime goals, with Edwardsville's Chris Pearson ending the Huskies' season with a Golden Goal in Saturday's consolation game at North Central College.
A scoreless first half against Edwardsville gave way to four goals in the second 40 minutes. North struck first less than a minute into the second half, when Evan Trychta crossed a long diagonal ball to the far post and Kyle Lindberg's head shot broke the ice.
Edwardsville (20-5-1) answered 7 minutes later with a Kyle Gramke goal, and went up 2-1 when Pearson scored at 66 minutes.
Trychta earned the equalizer for the Huskies in the 74th minute with a terrific strike from 30 yards out, taken with only 6 minutes left in regulation. The junior's shot skipped off the underside of the crossbar and found the back of the net, effectively sending the game to overtime.
It would be North's fourth consecutive overtime game in the postseason, and it lasted for a little over 8 minutes, when Pearson ended the contest. It appeared as though North's Jimmy Butler was fouled and sent to the turf, but with no foul called, Pearson gathered the ball and went in alone on North keeper Kevin Anderson.
Giving up 6 goals in two games seemed unthinkable for a North team built on defense in 2010. But then the waters of the entire postseason were a bit choppier for the Huskies.
"We gave up more goals in the postseason than we did during the regular season, which is extremely disappointing, especially the fact that – again -- some of the goals were soft," Konrad said.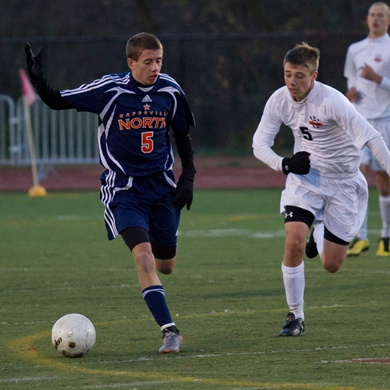 Butler, Max Auden, Lee Grander, and Jack Henderson made up a nearly impenetrable back four this season, and keeper Kevin Anderson held a .47 goals-against average in heading into the postseason.

But after giving up only 10 goals in 19 regular-season games, North gave up 11 goals in 7 postseason matches. Still, the Huskies topped Neuqua Valley in a sectional final shootout, and then beat top-ranked Lyons Township in overtime of their super-sectional match.
"It was a great year, obviously," Konrad said. "They did some wonderful things. To come through that sectional is something to be proud of and to beat Neuqua and LT, I'm proud of them. We didn't do what we wanted to do here, but the season was a big success."
None of the teams in the 3A Final Four featured better attacks than the ones that Neuqua and LT threw at the Huskies, but North struggled to keep both Libertyville and Edwardsville out of net.

Trychta had no explanation, just a perfect summary of his side's downstate play. "We just weren't ourselves," he said.
Trychta had a goal and an assist in the consolation loss to Edwardsville, giving him 19 goals and 10 assists for the season. The junior led North in both categories this season. "Trychta played his (backside) off," Konrad said. "He just worked and worked."
Lindberg struck once in each game at North Central, Grander scored a goal, while Austin Maggard and Joe Sullivan had an assist apiece in the state finals.
The Huskies graduate starters Butler, Jack Henderson, Andrew Adcock, and Bryan Kanzler from this year's squad. Butler and Henderson were staples in back this year, while Adcock and Kanzler helped hold down the midfield with the sophomore Sullivan.
Seniors Bob Ren (3 goals, 6 assists), Spencer LaBelle, Ryan Wiaranoswki, Diego Rodriguez, Jason McIntosh, Eric Kubota, and keeper Nick Damianides will also be lost to graduation. But the loss of only four starters means that North will likely carry even higher expectations next season.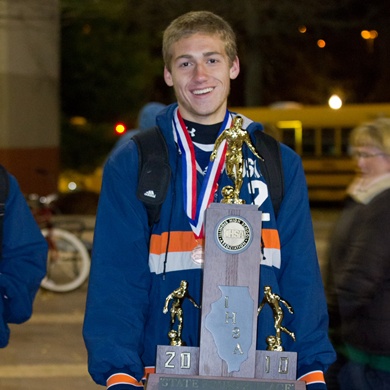 Konrad sees promise in the next wave of underclassmen poised to join the varsity squad next season.

"The guys we have on Jayvee-I are hard-nosed, tough kids, and we need that," Konrad said. "Madisen Gonzalez is a hard-nosed kid in the middle and we'll lean on him next year.
"Maybe that's the addition we need. Our kids play hard, but they play hard politely. We won games because we fought and fought and fought, the ball fell at the right place at the right time, and we finished. Technically and mentally, we have to be better, but we'll be all right. Hopefully we'll be a year better."