Lions see hopes for a repeat dashed in super-sectional
Huskies score in second overtime to claim a 3-2 victory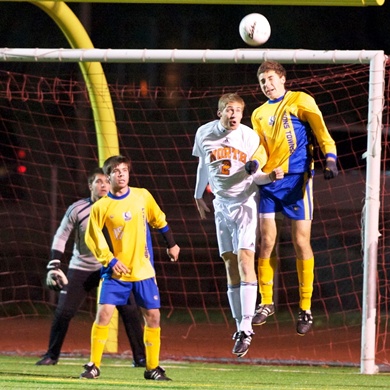 Photos courtesy of Harry Bull
CLICK TO SEE PHOTO GALLERY OF THE MATCH
Photo gallery courtesy of Scott Butler
By Curt Herron
When you are the defending state champions and you see dreams of repeating dashed in heartbreaking fashion, it's obviously a difficult pill to swallow.
That's precisely the scenario that played out for Lyons Township on Tuesday against Naperville North in the Class 3A Hinsdale Central Super-Sectional.
But rather than hanging their heads and feeling sorry for themselves, the Lions gave the Huskies their due and left the field proud of their effort.
LT, which had made a habit of throwing a little extra drama into many of its matches this season, took things to the extreme one final time on Tuesday.
With the seconds ticking away in regulation play, the Lions scored a goal with just 21 seconds remaining to force overtime against the stunned Huskies.
The momentum seemed to be going LT's way heading into the extra periods, but it was North that found the net first to end the back-and-forth match.
Max Auden made a short shot following a free kick from Evan Trychta just 46 seconds into the second overtime to give North a 3-2 win over the Lions.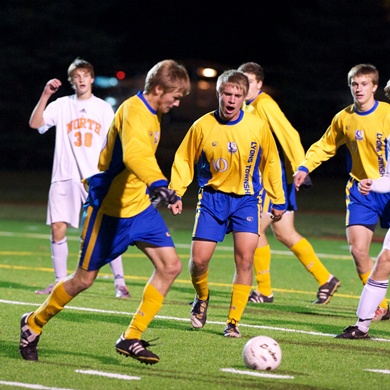 That victory sends the Huskies to the state finals for the first time since 2002 and it will be their initial state appearance under coach Jim Konrad.
North (21-2-2), winners of nine straight and 16-0-2 in its last 18 matches, will take on Libertyville at 7 p.m. on Friday at North Central College.
Meanwhile, LT (22-2-2) saw its 14-match win streak snapped and the defeat concluded a fantastic 48-5-2 run for the program over the last two years.
Head coach Paul Labbato and assistant Kelly Neidig saw their team go 37-2-2, dating back to the middle of last season when it began the state run.
Click to hear coach Paul Labbato interview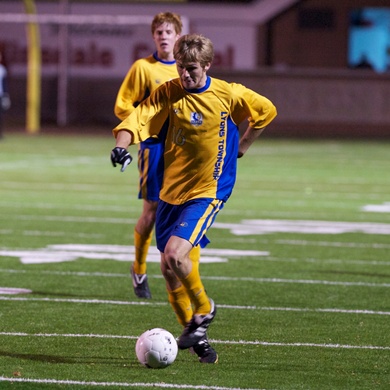 The Lions were hoping to make some history as the first large school to repeat as champions since Carl Sandburg pulled off the feat in 2001 and 2002.
They also fell just short of becoming only the second set of LT teams to make consecutive state trips, something the 1998 and 1999 teams accomplished.
LT was the top-ranked team in the state throughout parts of the season, not a bad feat considering how many quality players it lost from a year ago.
Of the 11 players who started in last year's state finals, only four returned this and just three of those were on the field against the Huskies.
Seniors Kyle Kurfirst and Peter Kralovec-Kirchherr and junior Elliot Borge did their best on Tuesday to try to earn another state trip this season.
They hoped to move on so that senior Horacio Sanchez, another key member of last year's state championship team, would return to action this weekend.
Sanchez, who earned All-State honors this year, couldn't play on Tuesday after picking up a dubious red card in the sectional title win over Morton.
While that foursome was a great group to build around, the loss of so many other key parts from last year's squad made a repeat run somewhat unlikely.
After all, LT lost Billy McGuinness, Chris Meingast, Brian Heimerdinger, Sully Fox, Zach Pearsall, Andrew Aviles and Dan Wielgos from its starting 11.
But seniors Alex Economou, David Ellis, Pete Gabrek and Kevin Beglen, junior Matt Thomas and sophomore Brett Heimerdinger all helped to fill the void.
Senior Taylor Halamka and junior Mark Pawula were also in Tuesday's starting lineup while senior Austin Wolff scored the goal late in regulation play.
Click to hear Kyle Kurfirst interview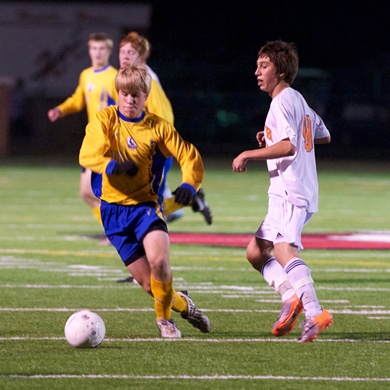 LT had the best chance in opening half when Borge and Heimerdinger both had tries deflected away by North keeper Kevin Anderson about 24 minutes in.
North scored first with 5:35 gone in the second half on a Jimmy Butler header off a corner from Joe Sullivan, just before an LT attempt hit the post.
The Lions got the equalizer with 24:54 left in regulation when Kurfirst scored on a header from close range following a throw-in by Kralovec-Kirchherr.
But the momentum which LT received following that score didn't last for long as All-Stater Trychta got past defenders and connected with 23:45 left.
Around the midpoint of the half, Borge had a shot deflected by Butler and North's Austin Maggard sent an attempt that Beglen had to dive for to stop.
After that, LT really started to apply the pressure on the Huskies, thanks in large part to numerous dangerous throw-ins from Kralovec-Kirchherr.
Kurfirst had an attempt deflected away for a corner off one throw-in and then Heimerdinger saw a try get altered which led to another throw-in.
LT looked like it might have finally run out of comebacks with 90 seconds remaining when Kurfirst lined a corner kick toward All-Stater Anderson.
But one final throw-in from Kralovec-Kirchherr paid dividends with 21 seconds left when Wolff knocked in the loose ball to force the extra sessions.
Click to hear Peter Kralovec-Kirchherr interview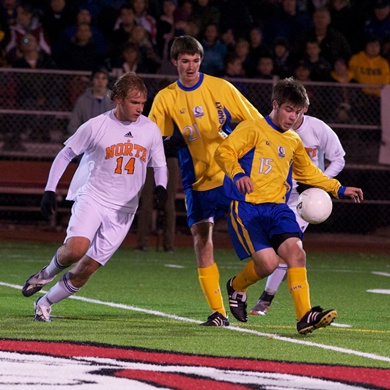 North had allowed just 13 goals all season and only one team, Jesuit of California, had managed to score more than one goal against it in a match.
The fourth goal of the night off a set piece proved to be the last as the Lions yielded three scores in a match for only the second time this year.
After the super-sectional plaque was handed to the Huskies, the Lions lingered around the field for awhile before huddling as a team one final time.
While the disappointing loss marked an end to a memorable chapter of LT soccer, for the players who will return, they hope it serves as motivation.
Click to hear Elliot Borge interview