Wildcats see hopes for state trip dashed in sectional finals
Huskies edge Neuqua 4-3 in PKs to face Lyons Township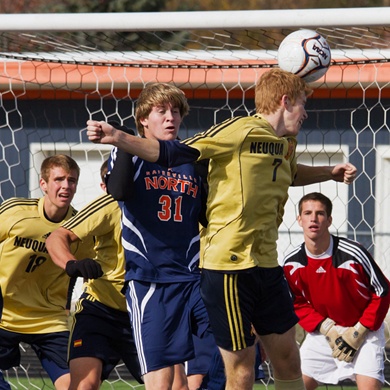 CLICK TO SEE PHOTO GALLERY FROM THE MATCH
Photos and photo gallery courtesy of Scott Butler
By Curt Herron
All season long, Neuqua Valley's players were focused on accomplishing something they were unable to do a year ago.
And that was trying to become one of the four squads to reach the state finals at North Central College in Naperville.
Neuqua's 2009 squad was top-ranked in the state throughout the season and took a 28-0 record into the super-sectional.
But coach Tony Kees' Wildcats dropped a 1-0 heartbreaker in that match to Lyons Township, who eventually went on to claim the Class 3A championship.
Although Neuqua graduated All-American Bryan Ciesiulka and the likes of Keegan Balle, Scott Davis and Jack Turanchik, hopes were high that it could enjoy another banner season this year.
But getting to the state finals figured to be a real challenge, considering the strength of many of the teams in both the Naperville North and Argo sectionals this year.
And Neuqua's path in particular was rugged, beginning with district rival Waubonsie Valley and then a Plainfield South squad experiencing its best season just to get out of the regional.
After winning those two matches, the Wildcats had to get past another team enjoying an historic season, East Aurora, in Thursday's sectional semifinals.
The Tomcats played a 0-0 draw with the Wildcats and then went on to edge Neuqua by half a match for the Upstate Eight Conference Valley Division title.
But Neuqua turned the tables on East Aurora in the postseason matchup and captured a 3-0 victory to advance to Saturday's sectional championship.
There they faced another huge obstacle in the host Huskies, who entered with a seven-match win streak and a 14-0-2 mark in their last 16 outings.
Coach Jim Konrad's squad had only allowed 12 goals all season, including one in a 1-0 defeat to Neuqua in a Best of the West match on August 31.
A victory for Neuqua would result in a fourth straight sectional title while the Huskies were seeking the first sectional title since 2005.
The winner was assured of a super-sectional matchup with Lyons, which rallied late to claim a 2-1 win over Morton in Friday's Argo Sectional final.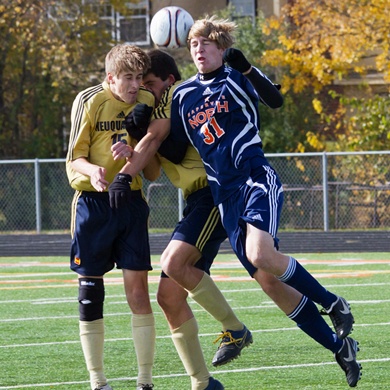 North grabbed the upper hand in the match when All-Stater Evan Trychta connected on a short header just 38 seconds into the second half.
That score looked like it might stand until Alex Karkazis got the equalizer with 3:54 remaining to force a 1-1 draw through regulation play.
Following four 10-minute overtime periods, things were still unresolved, which led to the sectional title being determined on penalty kicks.
Neuqua fell into an early hole after North's All-State keeper Kevin Anderson deflected the opening attempt by All-Stater Jacob Brindle.
After Trychta connected, Nicko Makropoulos was just wide on his try before Max Auden scored to give the Huskies a quick 2-0 advantage.
Sammy Al-Qady gave the Wildcats their first score but Lee Grander responded with a goal to make it 3-1 with just two rounds remaining.
All-Stater Patrick Doody kept Neuqua alive and the score remained at 3-2 after Hunter Hollingshead blocked an attempt by Jimmy Butler.
Will Butler connected to tie things at 3-3 but Joe Sullivan answered with a score to give the hosts a 4-3 advantage and 2-1 victory.
As a result, North moves on to Tuesday's Hinsdale Central Super-Sectional with a 20-2-2 mark while the Wildcats finished up at 16-4-3.
The disappointment of seeing the dream end earlier than expected in a frustrating fashion was tough to stomach for many Neuqua players.
Following a long post-match conversation between Kees and his squad, none of the Wildcats chose to comment on the match or their season.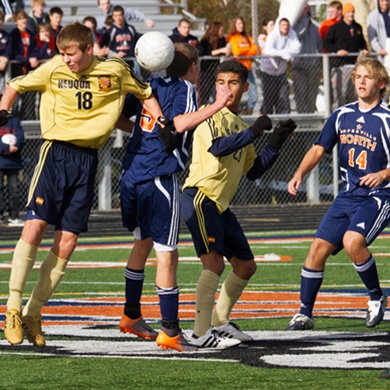 In a match that didn't feature that many great opportunities, Neuqua had a few more good chances to find the net than did the Huskies.
That was the case during the final 31 minutes of play, after Trychta's score had put North in front not long after the second half began.
One of Neuqua's best second half chances came when Butler sent a corner to Doody, who passed off to Brindle, whose short header was tipped over the net.
Shortly before the midpoint of the second half, Doody directed a liner to Anderson and later sent a free kick from just outside of the box a bit high.
Anderson then hauled in subsequent efforts from Austin Bergstrom and Brindle before Al-Qady was also denied shortly before Karkazis got the equalizer.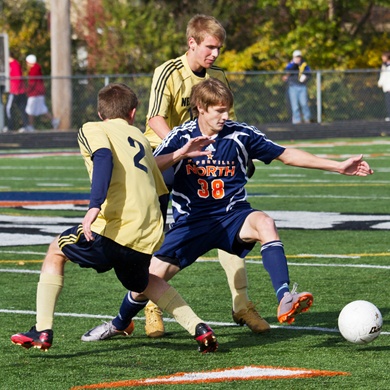 After Makropoulos had a short try halted near the end of regulation, Brindle and Doody had liners stopped by North's keeper in the first two overtimes.
Neuqua kept up the pressure in the third overtime as Butler, Blake Carson and Bergstrom were all denied before Brindle sent a header off of the post.
One final flurry during that third overtime saw a Doody corner go to Brindle, whose header was cleared and Bergstrom's subsequent header was grabbed.
After a rather uneventful final overtime where Hollingshead stopped the lone serious threat, the teams moved to the shootout to determine the outcome.
The Wildcats will be hard-hit by graduation, losing players like Doody, Brindle, Butler, Al-Qady, Bergstrom, Carson, Karkazis and Makropoulos.
Other seniors who will be moving on include Pat Kaindl, Andrew Solomon, Joe Carlson, Sammy Diab, Joey Kaufman, Tom McKinney and Marc Fasshauer.