Huskies top Neuqua Valley to reach Final Eight
Sullivan's shootout goal gets Naperville North to Tuesday's super-sectional
CLICK FOR PHOTOS COURTESY OF SCOTT BUTLER
By Gary Larsen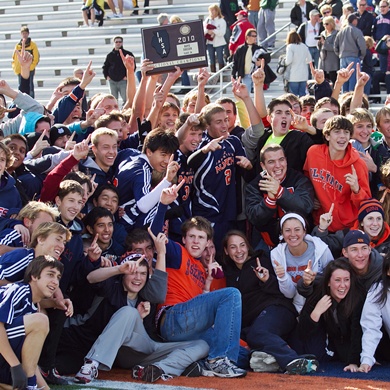 Legacy and tradition mean something in high school sports, so amid the chaotic celebration on the field, Naperville North coach Jim Konrad pulled out his cell phone and placed a call.
He wanted to let now-retired former Huskies coach Dave Bucher know that his old program had just knocked off Neuqua Valley to advance to a Class 3A super-sectional game.
North's sectional title came when goalkeeper Kevin Anderson stopped a PK and sophomore Joe Sullivan converted one in the 5th round of a shootout. Before that occurred, the Huskies (20-2-2) and Wildcats (16-4-3) played to a 1-1 tie through regulation and 40 minutes of overtime.
"It feels so awesome to win," North defender Lee Grander said. "We knew we had a chance and we stuck it out until the end."
Neuqua Valley beat Naperville North 1-0 way back on August 31. Saturday's game figured to pit Neuqua's superior technical skill against North's hard-hat style of play, and it held true to form.
Neuqua out-possessed North for almost 120 minutes of soccer, had more chances, and spent more time in the attacking third. But the Wildcats only managed a single finish against a North team that has only given up 13 goals this year.
Only once in 24 games this season have the Huskies given up more than a single goal in a game, and only 4 goals against them all year have come during the run of play.
The boys in back for North – Grander, Max Auden, Jack Henderson, Jimmy Butler, and keeper Kevin Anderson – knew what to expect from a Neuqua Valley attack led by Patrick Doody, Jacob Brindle and company.
"Pat Doody is a phenomenal player," Grander said. "We know he likes to dribble down the line and deliver the ball back-post, so all we did in practice was work on how to defend it when they're whipping in those balls. I thought we did very well with that today."
"They were the same team, just sharper," North's Evan Trychta said of the rematch with Neuqua. "They're good at possessing it, and good at getting those early crosses in. Almost everyone on their team can play that early cross. They're all really talented."
North grabbed a 1-0 lead just 38 seconds into the second half when Austin Maggard crossed a ball from right to left and Trychta dove forward and sent it inside the far post from 12 yards out.
Nine minutes later, Anderson tipped a Brindle offering over the crossbar, and four minutes after that Neuqua field player Sammy Diab stopped a North shot in a crowd at the goal line.
Neuqua's Will Butler nearly ran on to a dangerous feed in the box at 57 minutes, Doody sent a dangerous free kick high at 60 minutes, and Anderson saved Brindle with a diving stop at 67 minutes.
In the team's first meeting, the Huskies earned a 14-4 edge in shots taken over the Wildcats, but Neuqua held a clear edge in Saturday's rematch.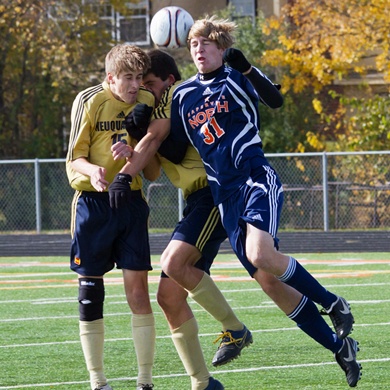 "They're a better soccer team so the challenge was to solve their offensive firepower, without giving them too much credit," Konrad said. "But we did not do well offensively today. We did not look good. Evan scored a great goal but besides that we were not dangerous, and (Karkazis) just cleaned everything up.
"They're a great team, and I really can't believe we won."
Neuqua finally knotted the score at 77 minutes on an Alex Karkazis toe-poke that ricocheted in off the near post. Neuqua created a few more quality chances in the first three overtimes and North did the same in the fourth before the game went to a shootout.
Anderson and Neuqua goalkeeper Hunter Hollingshead each saved a PK during the shootout before North's entire season rested on the foot of the sophomore Sullivan. He came through for the Huskies, sending his teammates and a track full of North fans into a state of delirium.
"It feels too good," Trychta said.
"That's a big thing to ask a sophomore – to hit the winning PK against Neuqua Valley," Konrad said of Sullivan. "He has been a really nice surprise offensively this year. We couldn't afford to lose him."
North's win also marked the first time in Konrad's eight seasons as head coach that his Huskies officially beat a team from Neuqua Valley. North will take on defending state champion Lyons Township in a super-sectional game on Tuesday, 7 p.m. at Hinsdale Central.
The Lions (21-1-2) have scored 68 goals in 24 games and have not been kept out of net in any game this season. They'll play without all-state forward Horacio Sanchez due to a red card infraction, but LT has plenty of creative firepower in the fold.
North will bring its lunch bucket style of play and defense-first mentality, and see what happens.
"We play the defending state champs and once we've seen them we've seen the best teams in the state," Konrad said. "Let's see what we're made of. Hopefully we can make something happen.
"They're incredible. They're the best team and they deserve to be (ranked) the number one team in the state."
North has posted 13 shutouts this year for a program whose tradition is built on keeping teams out of net. "Everyone works their butt off to please Konrad," Grander said. "He expects our defense to be the best defense anywhere.
"It starts with Kevin Anderson. He's one of the best goalies I've ever played with. Me and Jimmy lock down the fort and we have great outside backs with great abilities. Jack Henderson has an ability to knock the ball forward to Kyle (Lindberg) and Max Auden is a great outside back."
Konrad has been pleased all season with the job his defense has done.
"Jimmy's a good ball-winner and he organizes us, Lee's good in the air, and Max and Henderson have really made the difference for us this year," Konrad said. "(Neuqua's Pat) Doody still got his crosses in but I thought Max did a great job on him."
A look at the IHSA's record book tells you that Naperville North is listed twice for fewest goals allowed by a team in a season. Last year's squad only gave up 12 goals in 23 matches, and the 1990 Huskies only gave up 8 goals in 27 matches.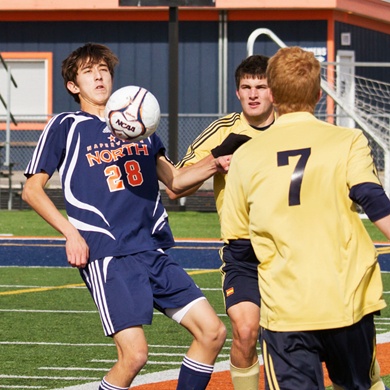 North's 1990 team is third all-time in fewest goals allowed, but that team's .29 goals-against average is the lowest all-time for a season in Illinois history.
"It was the mentality here long before I got here," said Konrad, who was an all-state midfielder at North under Bucher in 1989. "We've always built our teams with the idea that you will defend, and if you don't defend you won't play.
"We ride them hard. We are relentless when it comes to defending because we know that you can have a bad team but still do well if you make it hard for the other team to score."