Lions rally past Morton to win Argo Sectional championship
LT avenges only loss of season to move on to super-sectional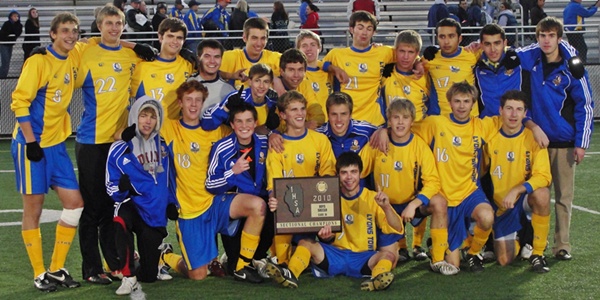 CLICK TO SEE PHOTO GALLERY FROM THE MATCH
Photo gallery courtesy of Lynn Magnesen
By Curt Herron
As time wound down in Friday's Argo Sectional final, it began to look like Lyons Township's quest to repeat as the Class 3A champions would end.
Morton owned a 1-0 advantage heading the final 10 minutes of play and the Lions were down a man after receiving a red card a few minutes earlier.
But as LT has demonstrated time and again over the past two years, you can never really count them out, especially when the pressure increases.
That certainly proved to be the case on Friday when despite facing some real adversity, the Lions came to life in a most impressive fashion.
The Lions got the equalizer with 7:16 left when senior Austin Wolff, who recorded his first goal to suddenly give his new plenty of momentum.
Then just 2:19 later, Kyle Kurfirst connected from close range following a free kick from Elliot Borge to give LT its first lead of the match.
Coach Paul Labbato's squad effectively ran out the remaining time to capture a 2-1 come-from-behind victory over the Mustangs in Summit.
It was the seventh time in 14 years that the two programs had met in sectional play and each of the results has been decided by just one goal.
LT (22-1-2) carries a 14-match win streak into Tuesday's 7 p.m. Hinsdale Central Super-Sectional against Naperville North, which edged Neuqua Valley 2-1 on penalty kicks on Saturday.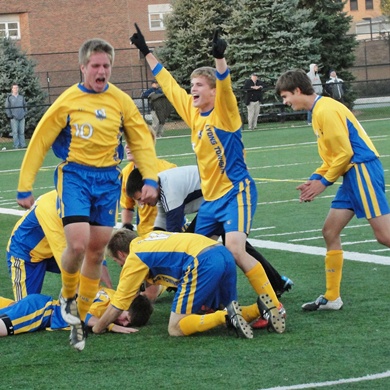 The Lions' comeback win was similar to the only loss they've had this year, by the same score to Morton (21-4-3) on September 18 in LaGrange.
In that match, the Mustangs scored late in regulation play and then connected again in overtime to advance to the Pepsi Showdown championship.
That loss is the only blemish on LT's record extending back to the middle of last season. Since that time, the Lions possess a 37-1-2 record.
One of the biggest plays of the match that didn't result in a score, but certainly could have, occurred with 14:30 remaining to be played.
That's when Peter Kralovec-Kirchherr sent a throw-in toward the box and Pete Gabrek headed the ball in the direction of the net.
To some, the play looked like it might be a goal while to others, it appeared that the Mustangs may have been guilty of a hand ball.
But the referees saw things differently and awarded the possession to the Mustangs, which led to some heated arguments from the Lions.
During that time, LT's Horacio Sanchez received a red card for expressing his thoughts with an official, thus taking him off of the field.
While that loss figured to hurt LT, instead it seemed to inspire them to begin a steady stream of pressure against keeper Kenny Kucinski.
Click to hear coach Paul Labbato interview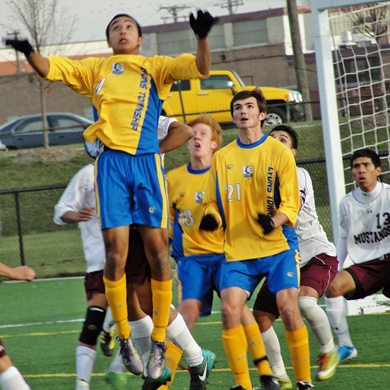 About three minutes after the hand ball situation, Elliot Borge was headed toward the net and got tripped up in the box, but call was made.
Morton actually snuck a threat in between LT's chances, but keeper Kevin Beglen deflected a try by Ivan Chavez with about 10 minutes left.
But the next good chance belonged to LT and it resulted in the Lions collecting their initial goal against the tough Mustang defense.
With just over seven minutes left, Kurfirst sent a free kick toward the box, where several Lions players were ready to head the ball in.
The player who accomplished the feat, Wolff, not only scored his first goal but did so on his birthday, to quickly create a tie situation.
Click to hear Austin Wolff interview
Borge was tripped up with 6:30 to go and this time LT was awarded a free kick just outside of the box, but it didn't result in a good try.
A minute later, the Lions got another free kick and Borge sent this one in front to Gabrek, who wound up directing a header wide of the net.
Things finally clicked on Borge's next free kick as Kurfirst got a touch on the ball before it went in to send the LT crowd into a frenzy.
Click to hear Kyle Kurfirst interview
Borge served up another free kick with 4:00 left that Chavez cleared and then Borge lined another try over the net about 30 seconds later.
After that wild sequence of goals and close calls, the Lions were able to effectively run out the remaining time that was on the clock.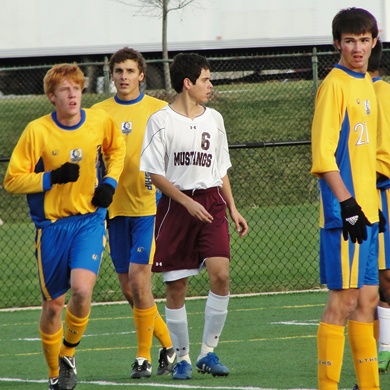 LT definitely enjoyed more good chances throughout the entire match, but that dominance was most clearly seen during the final 40 minutes.
About six minutes into the new half, Kurfirst's corner kick was punched away and Borge got the rebound but his grounder was halted.
About a minute later, Borge sent a pass to Sanchez, who headed the ball in for a goal, which was disallowed due to an offsides call.
Shortly after that, A throw-in from Kralovec-Kirchherr went to Gabrek, but his attempt on a header went right to the Mustang keeper.
Morton followed with two good chances a few minutes later but Beglen stopped a header by Alonso Torres and a short try by Brian Tapia.
Around the midpoint of the half, Borge sent a header to Kucinski off a Kralovec-Kirchherr throw-in and Sanchez was denied on a liner.
LT had another opportunity about a minute before the hand ball controversy but Gabrek's header off of a Kurfirst free kick went high.
Click to hear Elliot Borge interview
There was less drama in the opening half, but that 40 minutes of play was highlighted by what looked like it could be the deciding goal.
About midway through the half, Borge nearly connected after the Mustangs stopped playing on a sequence in anticipation of a whistle.
A few minutes later, Borge sent a short attempt just wide of the net with Sanchez unable to knock the ball in as it went past him.
Right after that, Borge directed a corner kick toward the net and Gabrek got his head on it but the attempt was grabbed by Kucinski.
Morton moved in front with 6:26 remaining in the first half when Joel Salmeron got free past defenders and knocked in a short attempt.
LT had two more chances before the break, but Alex Economou's long free kick was stopped, as was a subsequent header sent by Borge.