2013 ROSTER

Coach: Ed Watson

Abby Hershik
So., GK
Nikki Connors
Sr., GK
Alison Kincaide
So., M
Amanda Murphy
Fr., F
Ellie Fricke
Jr., D
Meredith Tunney
So., D
Kellie Brooks
Jr., D
Autumn Muckenhirn
Sr., F
Veronica Ellis
Sr., M
Kayla Rowan
Fr., D
Grace Orndorff
Jr., M
Nikki Alore
Sr., M
Kathleen Conforti
Fr., F
Mackenzie Sisko
So., D
Sabrina Cisneros
Sr., D
Amanda Alberts
Sr., D
Ryan Dudycha
Fr., F
Abby Joyce
Jr., F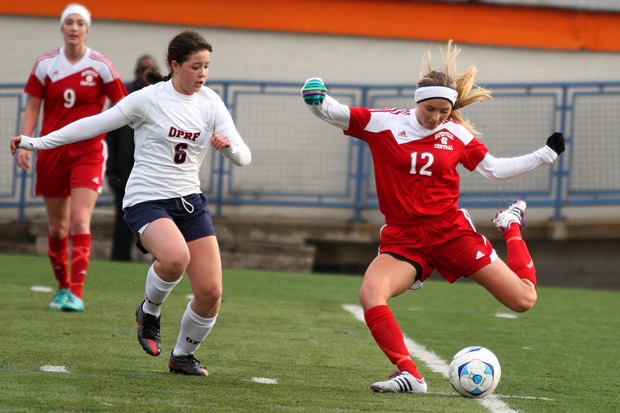 Ellis back to her old self in her senior season
By Gary Larsen
Veronica Ellis -- 'V', for short -- is a perfectionist. Just ask her math teacher, who also happens to be her soccer coach at Naperville Central.

"I have a couple players in class. Amanda Alberts and V are two of my students in Calculus," Redhawks coach Ed Watson said. "V is one of these kids in class that wants to get everything right. She demands a lot of herself, she's a perfectionist and she challenges herself. And that goes for her play on the field as well."

Ellis has always aimed high. As a youngster, she had a friend with better dribbling skills than the other kids on their park district soccer team, a reality that the seven-year-old Ellis flatly rejected.

"Teach me how to dribble," she told her mother.

"My mother likes to tell that story," Ellis says today. "Even as a little kid I was really competitive. I've always been determined, always wanted to do things the best I could. So I was always in the backyard with a ball."

Perfectionism and desire can get you a long way towards becoming one of the best high school soccer players around.

The senior Ellis started down that path three years ago when she and then-fellow freshmen Autumn Muckenhirn and Sabrina Cisneros were called up to play on the Redhawks' varsity team.

It's only fitting that Ellis is spending her senior season playing all over the field for the Redhawks since that's essentially what she's done for all four varsity seasons. Early on, Ellis established herself as a versatile player, starting as an outside defender her freshman year for a team that went 16-3-5. A year later, she was needed elsewhere.

"She played everywhere for us her sophomore year," Watson said. "We knew she was the type of player that could give us a lift, anywhere we put her. And even as a younger player, even though she was thin, she laid the wood to people. That physical part of her game was there even then."

Ellis' prospects brightened further when she attended a summer camp at Indiana University after her sophomore year and put herself on the radar at IU. "The coaches told me they were interested and to keep communicating," Ellis said. "I was looking for a college in the Big 10 and I loved Indiana so much."

Then disaster struck.

A torn ACL suffered before her junior year not only put her on the shelf but threatened to shatter Ellis' Big 10 dreams. Lyons Township senior Ari Kowalski is one of Ellis' best friends and she was there the day Ellis tore up her knee.

"It happened at ODP summer camp and after she came off the field we knew it had to be serious," Kowalski said, "because she never goes down."

At that point, Ellis wasn't sure what the future held for her. "I thought I wouldn't have many options, that I'd have to come back super quickly to play and try to find another college," Ellis said.

Like so-called 'Tommy John' shoulder surgery in baseball, ACL surgery has nearly become a routine procedure over the last decade. So, after a doctor removed part of her patellar tendon and used it to repair her ACL, Ellis put her rehabilitation on the fast track. She attended physical therapy three to four times per week, did extra therapy afterwards, and only five months after surgery Ellis was ready to start playing soccer again.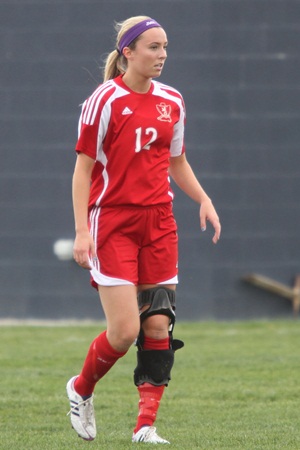 And throughout her rehab, the Hoosiers' coaching staff stuck with her.

"Indiana never really changed their opinion. They said they've seen so many players come back from ACL injuries that they weren't concerned that I might not come back at a hundred percent," Ellis said. "I went on a visit there and that's when they said they wanted me to commit. Then I didn't have to rush myself back to play."

With her college future settled, Ellis' next step in recovery was getting back to the player she was before the injury.

She was fitted for a bulky knee brace and once back on the field, she committed to being patient with herself. Patience doesn't always come easy to high-achieving perfectionists but after watching one of her club teammates come back from a knee injury, Ellis pulled back on the reins of her own expectations.

"I saw that she was always so disappointed in herself. She'd make a mistake and then make another just because she'd pause and get so angry with herself," Ellis said. "I told myself I didn't want to do that so after every mistake I'd make I just tried to get myself right back in the game. I lost a little confidence but I tried my best to be mentally tough with it."

Ellis was forced to drag a knee brace around with her during her junior season and Watson used her up top for a team that won the Naperville Invitational and went 20-2-2. But she wasn't the Ellis of old.

Watson still needed her on the field but "she just couldn't explode or cut. It slowed her to the point that she wasn't the player we knew she was capable of being," Watson said. "She had to wear the brace for a certain amount of time and by the time she was cleared to play without it, that put us past the state tournament.

"She's so gifted and plays with such pace and she plays hard. But she just couldn't be what she was as a sophomore."

There's a scene near the beginning of the movie Forrest Gump when the young Forrest sheds his leg braces while being chased by bullies, and then takes off like lightning across a field. When she was finally cleared to play without the brace last summer, Ellis could relate.

"Definitely," she said. "The brace just didn't allow me to do what I could do before.".

She also learned a valuable lesson, and one that anyone coming back from knee surgery can take from.

"After the ACL injury I had to learn that things weren't always perfect. It changed me because I couldn't be perfect every time and I learned that things can't always go smoothly. But if the outcome is good and you're making strides and making improvements to get perfect, that's all right."

The surest sign of Ellis' good health is that she's back playing all over the field for the Redhawks this spring. Kowalski, who will room with Ellis at Indiana, describes Ellis at her best:

"She's a great playmaker and she's always looking to set people up, but when she gets the ball on her foot she can look and place it in net at any time," Kowalski said "She can play center mid, she can play defense -- she's a very versatile player. Anywhere you put her, she'll get the job done."

Watson is just happy to have a healthy Ellis on the field again, for a team that went 14-4-3 in the regular season and will play Bolingbrook in a Class 3A regional semifinal on Wednesday.

"She's much stronger now," Watson said. "She's not a girl anymore, she's a woman. She can play inside, she can score in different ways, she's good in the air, two-footed, and can find ways to get herself open. She's one of those kids that you love having on your team."

Ellis is glad to be back to her old self, wherever she's needed on the field.

"This year I started out at center mid, now I've been playing right mid and when we make our first substitution I'll move to forward, and then I'll move back to center mid," Ellis said. "I'm comfortable anywhere, but especially on the outside of the field. I've played a lot of outside defense but I'm not sure where (Indiana) wants me to play. I think it might be somewhere in the attack.

"It's good to be back."