Armand, Romano connected on and off the field
By Matt Le Cren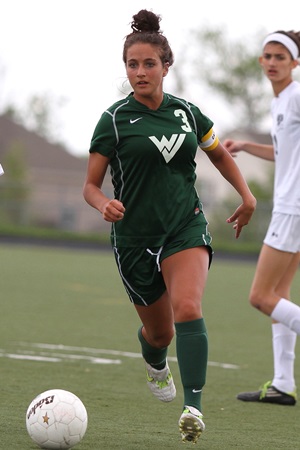 Rachele Armand and Jenna Romano have come full circle in the four seasons they've played for Waubonsie Valley.

Their high school careers have spanned the tail end of one dynasty and the beginning, they hope, of another.

In between there were lots of highs, a few difficult lows and, above all, a friendship that continues to deepen.

Armand and Romano have played all over the field during their careers and contributed in a variety of ways to one of the most successful programs in the state. So it is fitting that they are spending their senior year side-by-side, literally and numerically.

Their uniforms are sequential – Armand wears No. 2 and Romano No. 3 – and their positioning proximate, as both patrol the middle of the Waubonsie defense. Though they can play many different positions, some of which would shine a brighter spotlight on their contributions, both are happy to be where they are.

"It's been a real blessing," Romano said. "We knew each other from club freshman year, then being able to become so close in high school…it's really helped to build that relationship and that chemistry.

"Our friendship has helped us play together very well. She has everything I need and I have everything she needs, so we balance each other out and we're very comfortable with each other in the back."

In the beginning, Armand and Romano were the only freshman starters on the 2010 team that went 23-1-4 and won the program's third state championship in four years.

Armand was a defender who ended up seeing a lot of time at forward and finished third on the team in scoring with 10 goals. She also had six assists, including one in the 3-0 win over Sandburg in the state title match. Romano was a midfielder who contributed three goals and one assist.

The pair got their first taste of adversity as sophomores when Armand sat out the season after suffering a torn ACL and the Warriors struggled to integrate a slew of young players in their first campaign without Vanessa DiBernardo, who now stars for Illinois and helped the United States win the U-20 World Cup last year.

Romano made sure Armand didn't have to face rehab alone.

"She was at my house the day after my surgery," Armand recalled. "I was with my best friend and she was cheering me up. She's the like the best friend I could ever have."

"It was definitely hard," Romano said of playing without Armand. "I think the whole team knew that we were missing one of the best players on our team, so it was tough to get through that, but then again, looking on the sideline and having Rachele watch us, we didn't want to disappoint her. As much as we wanted her on the field, we had to play for her."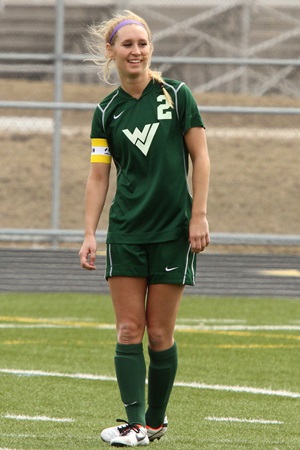 Romano did her part as she recorded six goals and six assists, which ranked third and second, respectively, on the team. She had a goal and an assist in the 2-1 victory over Downers Grove South that secured the 15th regional championship in school history before the Warriors' season ended at 17-6 following a sectional semifinal loss to Neuqua Valley.

Armand returned to the lineup last spring and played mostly left fullback while Romano saw action in the back and the midfield. Still an extremely young squad, the Warriors went 16-5-3, losing only to state champion Naperville North (twice), Neuqua Valley (twice) and Naperville Central, the only team to beat Naperville North.

Romano tallied three of her six goals in the playoffs, including the only goal in a 2-1 loss to Neuqua in the regional final. She and Armand both had three assists.

Winning 33 games over two seasons would be considered a great achievement for most teams, but the Warriors have extremely high expectations for themselves.

"I think there is definitely a lot of pressure on us, especially after winning state our freshman year," Romano said. "Everyone expected a lot out of us, but maybe not winning state the past two years has almost helped us, because maybe people think less of us and we come out there and we're a lot better than people think."

Indeed, while Naperville North and Neuqua Valley, which has nine Division I recruits, have drawn most of the attention this spring, the Warriors (12-3-1) have continued to improve and impress with their cohesiveness.

The steady play of Romano and Armand is one reason for that, ensuring the team is technically sound at both ends.

Armand, who one coach calls the best defender in the state, is a lockdown back who can mark anyone. She is one of the few players who can stay with Neuqua Valley star Zoey Goralski, the UCLA recruit and U-20 national team player whom Armand played to a stalemate in a match last season.

Romano isn't quite as fast as Armand but is also tough-nosed on and off the ball and has a powerful leg. Naperville North's Abbie Boswell managed to get around Romano en route to a goal in last month's 1-1 tie, but few others have gotten past her.

"She's very aggressive and good in the air and her long balls are always spot on," Armand said. "[My strengths] would definitely be my speed and my one-on-one defending."

Even though they play on the back line, Armand and Romano are perfectly capable of supporting Waubonsie's attack. Both are threats to make overlap runs and both are dangerous on set pieces, with Armand taking most of the team's corner kicks and Romano many of the longer free kicks.

"We can both go up," Armand said. "If I go up, she has my back. If she goes up, I have her back. We are just really good at working with each other."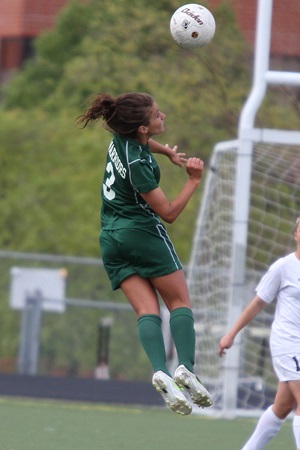 Armand and Romano serve as team co-captains along with the two other seniors who have been on varsity all four years – midfielder Karla DiJohn, a Notre Dame College recruit, and UIC-bound forward Kendall Wilde. By all accounts that group has done a great job of leading a roster that includes 12 sophomores and seven freshmen, making the Warriors the youngest of the elite teams.

"The players that have been around for four years, it's always neat to watch them grow," Waubonsie Valley coach Julie Bergstrom said. "They come in as freshmen with their eyes wide open and to watch them slowly earn and take the responsibility of what it's like to be an older player and a leader is neat to see."

Bergstrom, who has guided the Warriors to 236 victories since taking the helm in 2001, said this is a fun group to coach and the seniors have set the tone

"Waubonsie has a culture of teamwork, like you want to do this together and we want to respect each other and play for each other," Bergstrom said. "I think they've set an example to make sure that everybody contributes."

It's a lesson that Armand and Romano learned as freshman from DiBernardo, one of the best high school players the state has produced. They have transferred that knowledge to their younger teammates.

"Definitely, because Vanessa was an amazing role model, obviously, and she was the one to lead by example," Armand said. "She wasn't exactly always vocal and that's kind of how we are.

"We'll work hard on the field and we try to keep pushing people. We try not to yell at anyone on the field when things might be getting frustrating, but we just try to lead by example and just keep pushing through. We do as much as we can to encourage freshmen and the other underclassmen."

As the regular season winds down, the Warriors are getting excited because they see the potential to make a deep playoff run. If they can get out of the Bolingbrook Sectional, the state's toughest, another state title could be within reach.

"I think it's definitely a huge difference this year from our last two years [when] we didn't make it that far in playoffs," Romano said. "We keep continually saying this, but if we were to win state any year, this is the year.

"We literally have come together so close as a team. Everything is finally coming together. Everyone gets along, there's no tension with anyone.

Much as they don't want to think about it, Armand and Romano's prep careers are coming to an end. When asked what they think about the legacy they will leave behind, they refer back to their decision to play high school soccer.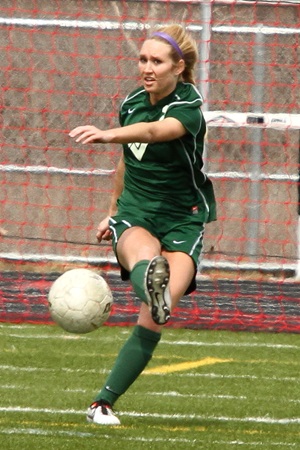 "I think doing high school soccer in general is probably one of the best decisions that I've ever made because you get a different feel," Romano said. "In club the only fans you get are your parents and when we played Neuqua there were like hundreds of people. It's a different environment. It's really cool."

"Seeing all the people at home games is like the best feeling," Armand said. "It hasn't quite hit us yet that this is our last year.

"We're definitely going to try to come back and visit all of them but I think in practice us and 'Berg' have taught the younger ones a lot of stuff so in the next years they can carry on and keep doing really well."

Armand and Romano will carry on at the next level, though not as teammates. Armand will play for Louisville in the fall, while Romano is headed to Wake Forest.

"I'm having a hard time with that because literally we're together all day, every day," Armand said. "I'm excited that we play each other preseason for college this year in Louisville and Louisville is switching to the ACC so I'll be able to play against her, which is different. It's going to be hard not playing with her."

Not as hard, one suspects, as it will be for the Warriors to play without Armand and Romano. Then again, if they have learned anything from Armand and Romano, it is that they will be fine as long as they have each other's back.