2013 ROSTER

Coach: John Halloran

Maggie Avampato
Sr., D
Jenna Bauer
Sr., GK
Elizabeth Bream
Sr., F
Bri Carlson
Sr., F/M
Annie DiVenere
Sr., M
Colleen Foley
Sr., D
Meegan Johnston
Sr., M/F
Katie Larson
Sr., GK
Caitlin Murphy
Sr., D
Claire Ogrinc
Sr., M/F
Sarah Bowles
Jr., M
Jen Capparelli
Jr., D/M
Emily Helle
Jr., M
Sadie Jung
Jr., M
Leah Lach
Jr., D
Katie Sandecki
Jr., D
Kayla Handel
So., D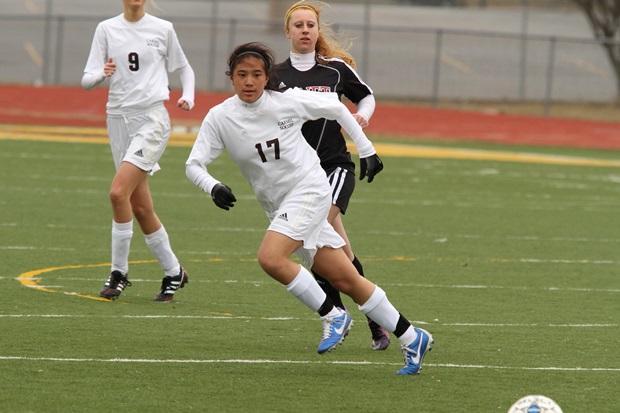 Corsairs playing well headed down the season's stretch
By Gary Larsen

With eight game cancellations this spring, all of the time that Carmel's players have spent practicing indoors with and against each other has been a little frustrating. But it has also reaped a few unforeseen rewards.

"The one thing that has turned out to be a benefit for us is they're sick of practicing, so when it gets to game time they're ready to chew somebody's leg off," Carmel coach John Halloran said. "And the other thing – and it sounds bizarre – but practicing so much in the gym has really helped our style, because we try to play such a possession style, and you can't whack a ball in the gym. You have to play everything to feet so if your touch is more than two feet off of your foot, you're going to lose it."

This year's Corsairs improved to 7-0-0 Monday with a 6-0 win over Lake Forest Academy, and have control over their destiny in the East Suburban Catholic Conference with wins already posted against perennial ESCC powers Benet and Saint Viator.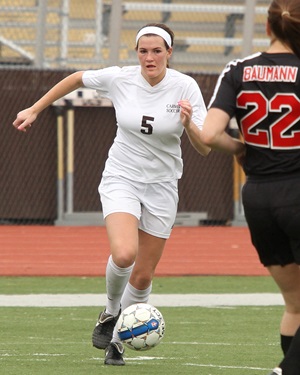 Carmel has outscored opponents 40-4 through 7 games and has been led offensively by Meegan Johnston's 11 goals and 3 assists, Bri Carlson's 5 goals and 5 assists, and Elizabeth Bream's 7 goals.

The University of Illinois-bound Johnston has taken her game to another level this season.

"Her skill set is the same but I think she's more mature in her game," Halloran said. "She's just more settled this year, whether it's because she's a senior or her college is already decided. Her decision-making is stronger and she's really showing us on a consistent basis what she can do.

"The ability she has, has been there since she was a freshman but she'd sometimes take shots off-balance or from too far out as a younger player. But this year she's really picking her spots and has been really fantastic for us. She has eleven goals and only three assists, but what the stat sheet doesn't show is the goals she sets up with her throws, her dead balls – she's kind of the hockey-assist type of player, where she doesn't get the official assist but she's the one that set the play up. She's creating goals for us."

Offensively, Bream and Carlson have also been solid from the outset this year.

"They're doing well and they're both nice stories. Bream struggled last year a little bit with her finishing but her work rate is fantastic and she's off to a good start," Halloran said. "She's taking advantage of her opportunities, and Bri just has a really solid skillset. She's not flashy but she can play with her back to pressure, she can score, she can distribute, and she's solid in the air as well."

Senior Claire Ogrinc had 3 goals and 3 assists this season before Halloran moved her to the backline for the Corsairs' 3-1 win over Benet on April 6, "and she's been back there ever since," Halloran said.

"She's been great about it. Katie (Sandecki) was out with a concussion so I talked to Claire about playing back there. She'd like to be up there scoring goals but she just looked at me and said 'I just want to play, coach', and that's the best answer you can get from anybody.

"She worked her way into the lineup last season just by working harder than anybody else and over the summer she emerged as one of our leaders. She's showing it every day now. She's a great leader, she's strong, she's got good size, and she's smart and competitive."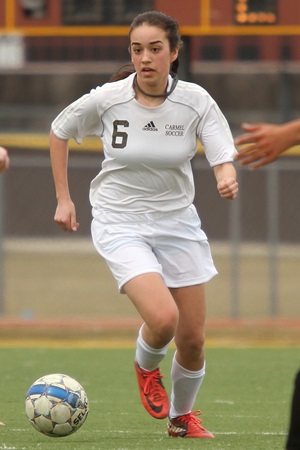 Defenders Orgrinc, Leah Lach, Kayla Handel, and Emily Helle have settled in, in front of keeper Jenna Bauer, for a backline that boasts a .57 goals-against average.

Lach and Ogrinc have been rock-solid in the middle of the defense, while Handel and Helle have taken on roles on the outside that have changed in high school soccer over the last decade.

Outside defenders today still have to possess the toughness, speed, and tirelessness of old-school backs on the outside, but these days they're asked to do more than simply shut down opposing forwards.

"You used to stick your fast kids with no skill at outside back and just ask them to man-mark all over the field," Halloran said. "But the game has evolved. Now, you need outside backs that can handle the ball or you're in a lot of trouble.

"Helle was always an attacking midfielder. After tryouts I approached her and told her that I thought she could be a really good attacking outside back, and she's done really well there. She's great with the ball and she understands where she should be, and she likes to get forward."

Bauer stepped into net this year when last year's starting keeper – Nebraska-Omaha-bound Katie Larson – was lost for the season due to injury.

"The times we have gotten broken down, she's been really big for us," Halloran said of Bauer. "The Mundelein score was 5-1 but they had three breakaways in that game and didn't score in a single one. She stuffed all three of them. Inside of five feet, she's unbeatable. If she gets off her line and closes you down, you're not going past her."

Annie DiVenere and Caitlin Murphy have provided leadership and a high work rate along with Sadie Jung at midfield, where one of Carmel's most important players – Jen Capparelli – has done a lot of the dirty work that goes unseen.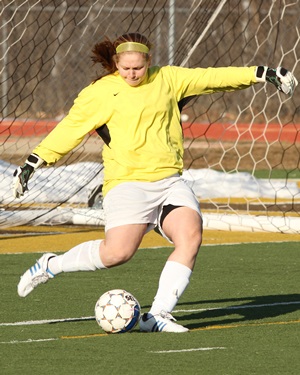 "There aren't a lot of games when somebody says afterwards that your holding mid really stood out," Halloran said. "But any coach will tell you that that's your team, right there. If you're not getting possession out of that position, you're in a lot of trouble. Breakdown any good series of possession that we've had and you can usually trace the first pass back to (Capparelli), where she has either broken up the play and gets our possession started, or someone from the backline has gotten her the ball and she is the one who makes the pass that gets the attack going."

After converting from a goalkeeper to a field player after her sophomore year, senior Maggie Avampato has also contributed at the holding mid spot.

"Maggie has a lot of heart, no one would ever question her work rate, and she's pretty solid in the air as well. She does a very nice job, coming in for (Capparelli)."

In Carmel's 6-0 win over Lake Forest Academy, the Corsairs got a pair of goals from Carlson and one apiece from Sandecki, Sarah Bowles, Kara Delamar, and Emma Kobbitter.

"I thought Colleen Foley was outstanding in the back for us in the second half of that game, and I thought Erin Johnston stood out," Halloran said. "She's a really technical player and we've been playing her in the back, but she has some really nice attacking instincts."

MacKenzie Sheehan was also solid on the outside at midfield against Lake Forest Academy, Sandecki saw her first extended time on the field as she comes back from injury, "and it was nice to see Sarah Bowles get a goal in the first ten minutes of that game," Halloran said. "Kara Delamar also played well and there's probably nobody in our program that plays with as much grit as she does."