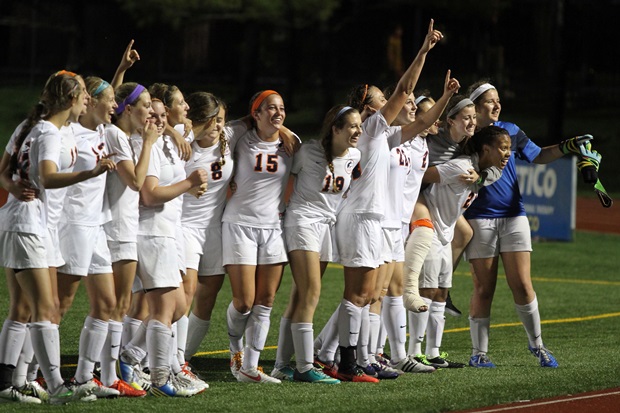 Huskies cap unbeaten season with second straight state title
Beat Hinsdale Central 2-1 to wrap up 22-0-2 campaign with another Class 3A championship
CLICK FOR TITLE MATCH PHOTOS COURTESY OF HARRISON BULL
By Curt Herron
After returning much of its team from last year's Class 3A champions, the pressure was definitely on Naperville North all season.
But competing against a rugged schedule of opponents who were always coming at them, the Huskies proved to be up to every challenge.
North capped a 22-0-2 campaign on Saturday night by claiming a 2-1 victory over Hinsdale Central in the Class 3A finals at North Central College.
It capped an amazing run for a group of nine players who played in three straight finals and 14 individuals who were members of the two title teams.
During the past two years, Steve Goletz and Ryan Kuehne have directed the Huskies to a 46-1-3 record, with the lone loss coming on penalties.
Their win over the Red Devils capped a 17-match winning streak, as well as an unbeaten run of 35 straight matches which reached back to last year.
The last time that North was beaten was in regulation play was in the 2011 championship when Brent Terada's squad fell 1-0 to Granite City.
North joined St. Charles (1996-2000), New Trier (2003-2004) and Waubonsie Valley (2007-2008) as programs who won consecutive large school titles.
Only six schools have pulled off that accomplishment in any class, with Saint Viator (2002-2003) and Quincy Notre Dame (2012-2013) also doing that.
The Huskies also joined Libertyville (1989-1991), St. Charles (1996-2000) and New Trier (2003-2006) as schools who made three or more straight finals.
North won its third title in the sport, with the other coming in the first tournament, in 1988, under coach Alan Harris, who was on hand on Saturday.
Joining the Huskies in that club are St. Charles East (8 titles), Saint Viator (3), New Trier (3), Waubonsie Valley (3) and Quincy Notre Dame (3).
They also became the 12th team to finish the season as unbeaten state champions and the ninth squad to pull that off in the large school division.
No team at North in any sport had ever advanced to three straight title games and only girls cross country (2004-2005) had repeated as state champs.
After sweating out a 1-0 win in four overtimes in last year's title win over St. Charles North, Goletz was happy for less drama this time around.
Zoe Swift scored twice in the initial 17 minutes for the Huskies before Hinsdale's Megan Schick connected about 10 minutes into the final half.
"To have the weight of the world on your shoulders from the start of the year and to navigate that all season without a loss and then end it here with back-to-back state championships leaves me a bit speechless," Goletz said.
"I'm so thankful to coach this group of kids and so thankful for this senior class and what they've meant to our program, not only on the soccer field, but also off of it. They're amazing kids in the school and the community.
"I truly feel very blessed to stand on that sideline and be able to call myself the coach of these girls. The list of these girl's accomplishments is unbelievable and that doesn't begin to speak about what these kids have done."
Goletz became the first coach in the sport to begin his career by winning back-to-back state titles and realizes all to well how fortunate he is.
"As a coach, I have to enjoy this as much as possible because you could coach for 40 years and never be in this spot," Goletz said. "I'm very blessed to have been able to get wins here twice in two years and I owe it to each girl that's put on the North uniform.
"I told the sophomores and juniors that they need to soak every minute of this up because the memories and experiences are invaluable. They need to be the ones next year that continue to push our team to work and improve because you see what hard work can do.
"I know that there were a lot of girls who were sitting in the stands tonight who are aspiring to be Huskie soccer players. They have how many role models here to look at? That's what high school sports is all about and I couldn't be happier for them."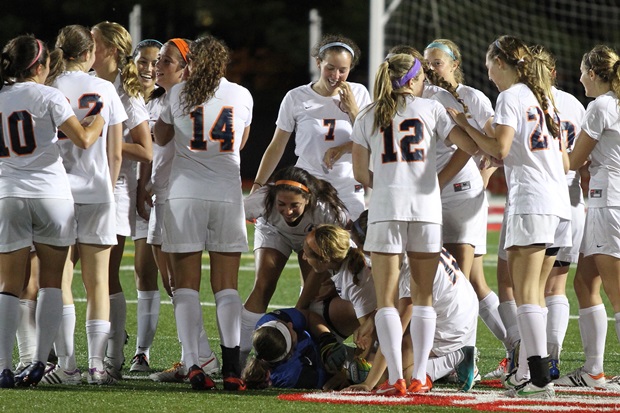 Despite seeing his team get off to the fast start, Goletz realized that the upstart Red Devils would fight back and again make a match out of it.
Coach Michael Smith's squad, who had gone 10-0-1 down the stretch to give them 18 wins a year after winning just nine matches, proved that point.
"That's a great team who had a great season and they gave us everything that we could handle," Goletz said. "They were well-coached and his girls played hard and they're all very good technically and do a great job under pressure.
"They should hold their heads high since they played us tough. We feel very fortunate to be the ones who are walking out of here as winners tonight."
Following an hour lightning delay and a rainy third-place match in which Barrington beat Buffalo Grove 2-0, the title match finally got underway.
It didn't take the Huskies long to jump out in front, with Abbie Boswell finding Swift for a score in the sixth minute for the eventual-winner.
"I think this makes us the best soccer team to come through North," Swift said. "Winning back-to-back state championships and getting to the finals three times is just a great accomplishment. It's great to finish out our senior year this way with a bunch of good girls.
"We didn't want anything less than this, for sure. After we worked this hard, we definitely wanted to win it. We prepared for this in practice and coach Goletz pushed us a lot so it's only right that we did the same in the game. We were mentally tough and physically strong."
North put itself in a great spot in the 17th minute when Cora Climo sent in a long free kick and Swift got a touch in front for a 2-0 advantage.
The two goals was a good sign for the Huskies, who won all 22 matches in which they scored multiple goals and played draws in one-goal efforts.
"It was great coming back here for the third time, especially being a senior," Climo said. "To be able to come out here and finish with another state championship is unbelievable. This was an awesome experience and the journey we've had is something that I'll never forget.
"We were confident coming in but we knew that it was going to be a tough game. We played Hinsdale Central earlier in the season and tied so it was definitely a battle throughout the whole 80 minutes.
"We're like a family since we spend so much time together and these girls are like my sisters. The one thing that we do is that we play for each other. It was a great four years I'm going to miss everyone so much. I wouldn't have wanted it to end any other way."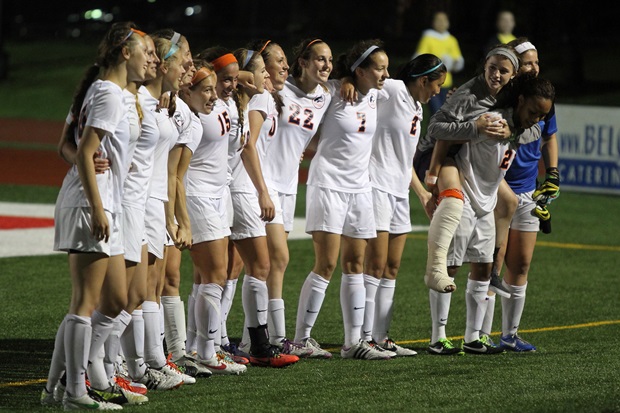 Hinsdale (18-4-3) only allowed one goal when the two squads earlier met and settled for a 1-1 draw in the Huskies' opener back on March 16.
One of the Red Devils' best first-half threats came late when Casey May found Jenn Jarmy, who was denied by Fiona Baenziger (6 saves).
The Huskies almost struck again early in the final half but Riley Glenn (5 saves) deflected an attempt and then Meghan Lee hit the crossbar.
Shortly after Climo was thwarted on another free kick, the Red Devils finally put together a frenzied sequence which resulted in their score.
In the 50th minute, Madeline Engelking forced a save by Baenziger and a rebound try was cleared by Angela Widlacki before Schick connected.
Schick fired off two more good efforts and Alison Cerny also had a shot on goal but all of the attempts were hauled in by the Huskie keeper.
North didn't let the Red Devils have many late chances and had a two of its own, with Boswell being denied and Swift stopped by Katie Camden.
It was the sixth one-goal victory of the season for the Huskies, with half of that total coming in the final five matches that they played.
"It's an awesome thing to be able to be here three years in a row and to win it twice," said Christa Szalach, who is co-captain along with Climo. "It's obviously a very rare thing so it's a great feeling. These girls has worked so hard to go undefeated so you can't ask for a better ending.
"You never like to lose, so losing the first time wasn't the best feeling, but it made us want it that much more these last two years. With 11 seniors and a lot of returners, we knew how it felt to lose and we didn't want to feel that again. That motivated us push even harder to win.
"Every day we practiced hard and I'm glad that it paid off for us. It's obviously a cool feeling to not experience losing since playing that first state championship. A lot of this team has been here for awhile so we were experienced, worked well together and we all wanted the same thing."
The Huskies graduate 11 seniors from this squad, seven of whom played on all three state finalists and nine who were on the two title teams.
Emily Bromagen, Maria Grygleski, Jillian Van Kampen, Climo, Swift, Szalach and Widlacki are the seven seniors who have been all three squads.
The other seniors who were on the last two teams are Tracy Korn and Caroline Rico. Caroline Casas and Lauren Wenig are North's other seniors.
Abby Mangefrida and Lee also were on the three finals teams. Sarah Feder, Baenziger and Boswell are the other members of the two title teams.
Four other Huskie squad members on this year's championship team are Lily Butler, Jen Fortman, Claire Hilburger and Allison Svoboda.
"This is so cool," Grygleski said. "For me to have been able to experience this three times in a row and to win two back-to-back was so great. It's been great to be a part of this atmosphere and even though it was so intense, it was also so much fun.
"I don't think a lot of teams in the state of Illinois have done this so it's great. A lot of other teams have really good talent and we also have a lot of talent. But the thing that won us another title is our heart, teamwork and dedication to each other."
While the Huskies graduate a special group of seniors, they return some key players who should again make them a force to be reckoned with.
"This is really exciting," Mangefrida said. "Each of the three years was a completely different experience and we learned from our past mistakes. In the first year we didn't get the result that we wanted and last year we got it, but not in regulation so this year we did it in regulation time.
"We have the greatest leadership and North supports us in everything so that helped to push us the whole way and I get to be a part of it for one more year. They teach us here how to work hard and to play for each other. We play for each other instead of ourselves and just want the result."