Huskies blank Collinsville to reach third straight state finals
By Curt Herron
It's safe to say that Naperville North experienced a week that would have tested the character of nearly any squad in the state.
First of all, the Huskies had to survive tough tests against Neuqua Valley and Waubonsie Valley just to get out of their sectional.
Then in Tuesday's super-sectional, North met a Collinsville squad who was looking for revenge from a loss in that match a year ago.
In one of their most physical matches of the year, the Huskies lost sophomore Claire Hilburger to a broken leg in the opening half.
But there's a reason why the defending Class 3A champions have put together a 33-match unbeaten string over the past two seasons.
One of the main ones is that Steve Goletz's squad hasn't backed down from any challenge, and that's why they're alive on the final weekend.
North received a pair of goals from Cora Climo while blanking the Kahoks as it claimed a 2-0 win in the Normal Community Super-Sectional.
As a result, the Huskies (20-0-2) advance to the state finals for the third straight year, which is a first for this successful program.
Assured of an eighth trophy in its eighth state trip, North meets Buffalo Grove in Friday's 5:00 pm semifinals at North Central College.
Buffalo Grove (25-2-1) defeated Loyola Academy 2-0 in the Glenbrook South Super-Sectional to claim its first state finals trip since 1995.
The Huskies need to win that match and another on Saturday to become the first large school champion to repeat since Waubonsie in 2007-2008.
While bad weather avoided central Illinois, it led to the suspension of the other two super-sectionals in 3A. They will be completed today.
North, which will be attempting to reach its third straight title match, has now won 15 straight matches and recorded 11 shutouts this year.
Keeper Fiona Baenziger was again supported by her reliable defense of Jillian Van Kampen, Angela Widlacki, Tracy Korn and Abby Mangefrida.
Zoe Swift and Abbie Boswell had a hand on their team's first score while Climo was unassisted on the second to now give her seven tallies.
Collinsville (17-7), which had won nine in a row, suffered its first shutout in six weeks and was blanked for the third time all season.
"It was a super physical game against a very fast and good team. I think the grass field slowed the game down a little bit and made things a little bit ugly at times," Goletz said. "Even though it wasn't pretty, the girls dug in and played hard. But at this point, you survive and advance.
"When Claire got hurt, it was a tipping point. I said that two things were going to happen. Either we were going to be shell-shocked and feel sorry for ourselves, which we had every right to do, as close as we are as a team. But as Claire was going off the field, she said, "just win," and there's nothing more that the girls wanted to do more for her.
"Cora stepped up and scored two goals when we needed them, but that's what you expect from a senior and a captain who's a four-year varsity kid. We couldn't feel more proud of her and I just feel great for her that she was able to do that for us today."
Goletz is proud of his program getting back to state for a third straight year, quite an accomplishment considering the route they've had.
That effort has been paced by 14 players who are back from last year's champions, which includes nine who were on the 2011 runner-up team.
"For this group of seniors to advance to North Central for the third straight year is unheard of," Goletz said. "This group has a bunch of character and they work for each other and leave their egos behind. All they want to do is win and they've been successful at outworking teams and they did it again."
"We know that everyone is coming for us but that speaks to the character of the kids and to the success that we've had. Every team wants to knock us off, but at this point when you get to the final four, no one needs more motivation. Our kids are very motivated to put their best foot forward and our seniors are excited to play two more games together."
Nearly a quarter of an hour ticked away before the squads began to seriously threaten each others' goals following their long bus rides.
Climo started things off by lining a corner kick to keeper Holly Bluemner, who then hauled in an attempt from the side from Swift.
Just before the half's midpoint, the Kahoks' Sophia Sharos bounced a liner off the crossbar and Alyssa Reiniger's header went wide.
After the Collinsville keeper hauled in a liner from Boswell and another effort from Swift, the drama suddenly reached an abrupt halt.
In the 27th minute, Hilburger collided with a Kahok and it was quickly apparent that she had suffered a serious injury on the play.
Normal paramedics arrived to assist the sophomore, who was assisted off of the field and taken to a hospital after about half an hour.
The question of how the Huskies would respond to this disheartening situation was soon answered, however, in a very positive fashion.
As the 29th minute began, Swift sent a pass through that Boswell got a touch on and Climo collected it and put in the initial goal.
"We've kind of had a target on our backs as the defending state champs so we've tried to work together so that we could come out strong," Climo said. "Collinsville put up a great fight today and this was one of the hardest games that we've played all season. We beat them last year and this one was definitely a battle until the end.
"They took it to us in the first half but we were able to regain things and get some chances off of that. When Claire went down, we all talked and said that we wanted to do this for her since Claire works her butt off for us and we know that she would want us to win this for her. We were in a funk but it gave us time to regain our composure.
"We started to play for her and for each other and came out strong. This is so exciting. All season our goal has been to get back to the final four. We're really happy to be back and hopefully we can get a win on Friday. We all love each other and we're a family and we all work for each other on and off the field and that's what gets us through."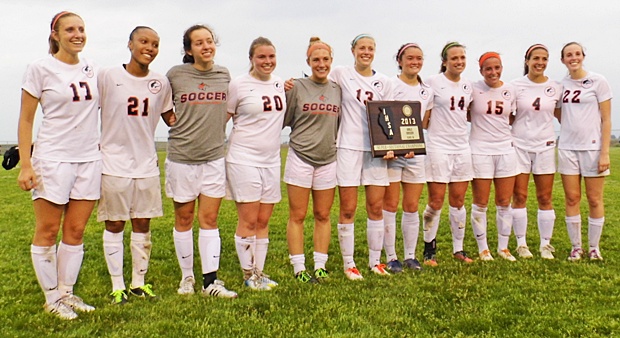 The Kahoks had a couple of good chances to even things up before the break but the Huskie keeper made two big stops to prevent that.
In the 36th minute, Kat Roe grounded a free kick to Baenziger and a bit later, she thwarted a long free kick from Brooke Blasingame.
Responding to Hilburger's serious injury and the subsequent lengthy delay with the initial score certainly helped the Huskie cause.
"We obviously have a lot of pressure on since we know that we're the targets and we've beaten teams like this before so they want to beat us," Korn said. "The pressure is definitely on but we're really strong as a team and we work together, manage to keep our composure and work our hardest in every single game.
"This was probably the most physical game that we've played. I think that Claire getting hurt really brought us together because we felt that we had to play for her and that we had to win it for her.
"We have a lot of seniors so obviously we have a lot of experienced players on this team. We've been together for so long that I just think that our personalities mesh really well together. we work hard but everything's always fun. We play for our whole entire team and not just for ourselves."
In the final half, the Huskies went on the attack early as Swift sent in a liner and was stopped up close off of a Climo free kick.
After a Swift pass to Boswell led to a threat that was cleared by a defender, Maria Grygleski was also denied on a close-range try.
Following the half's midway mark, Swift got free but the Kahok keeper halted the effort and a bit later, Emily Bromagen was denied.
Collinsville threatened twice in the final 10 minutes but a liner from Roe was stopped and Widlacki deflected another of her shots.
North ended the drama in the 76th minute when Climo sent in a free kick from about 30 yards out that dipped in under the crossbar.
The Huskies, who last lost in regulation play in the 2011 finals and are 53-2-4 in two-plus seasons, can create some more history.
For the 11 seniors, as well as the nine other squad members, two more wins would cap what has been another truly special campaign.
"Every games gets tougher than the next and every single girl on this team is giving it their all," Widlacki said. "Claire went out with a broken leg today and after that, we all knew that we needed to play even tougher. We've always said that we won't let ourselves get outworked.
"What I think is cool about this team is that there are 11 seniors and six of us have been with it since the start. With our team chemistry and the fact that we know that we're going to work for each other, we've been through it together and are ready to do it again.
"Like any Huskie sport, we're just a huge family. We have fans who come out to support us and within the team, we're all there for each other. We're going to support anyone who comes on the field since we know that they're going to give their best effort. It's great to play as many games as possible in our senior year."