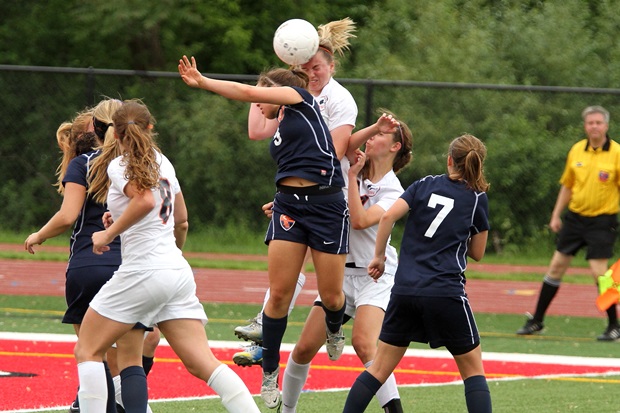 Huskies beat Bison to reach third straight state title match
Photos by Gary Larsen
By Curt Herron
Naperville North joined prestigious company on Friday in the IHSA Class 3A semifinals at North Central College.
Following a 2-0 win over Buffalo Grove, the Huskies became just the fourth program to advance to three straight championship matches.
They join Libertyville (1989-1991), St. Charles (1996-2000) and New Trier (2003-2006) in that exclusive club.
A win in Saturday's 7 p.m. title match with Hinsdale Central (18-3-3) would make them the sixth program to repeat as champions.
Coach Steve Goletz's squad scored a pair of second-half goals against the Bison to capture their 16th consecutive victory.
The Huskies (21-0-2) are unbeaten in their last 34 matches dating back to last year, when they lost on penalties to Naperville Central.
Their last defeat in regulation play came in the 2011 finals, when they dropped a 1-0 decision to Granite City under coach Brent Terada.
Saturday's championship is a rematch of a March 16 contest with the Red Devils, which ended in a 1-1 draw in the Huskies' opener.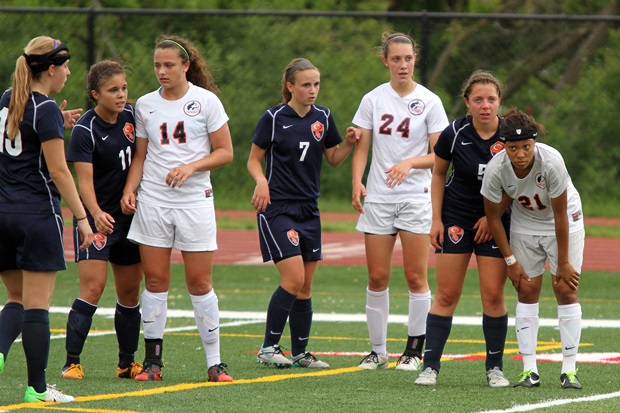 Meanwhile, Buffalo Grove (25-3-1) will face Barrington (18-5-1) for the third time this season in the 5 p.m. third place match.
In Friday's first semifinal, North struck twice within a two-minute span in the final quarter hour of play to establish control.
Meghan Lee, who has been on all three state teams, scored just the second goal of both the season and her career to put North up.
Cora Climo helped to set up that score while Zoe Swift did the same on the final tally, which was recorded by Abbie Boswell.
Fiona Baenziger recorded eight saves to post her eighth shutout in the last 10 matches as well as her 12th of the season.
Sarah O'Connor made four saves for the Bison, who were hoping to advance to their second title match, which they last did in 1992.
"We were a step slow out of the gate today," Goletz said. "We made some uncharacteristic errors technically. But I thought the girls did a great job of bouncing back at half and finding a way to get it done.
"Our back line did a very good job of keeping us in the game by limiting chances as much as possible until we were able to break through. To get two goals in that short span was definitely a sigh of relief.
"Buffalo Grove is a great team that's well-coached that is very technical, keep the ball well and play hard. But I thought that we did a good job of limiting their chances. We focused on making sure that Kelli Zickert didn't beat us."
The Huskies coach reminded his squad at the break of all that they've been through during the past few years of their amazing run.
"I told the kids at halftime that they've been through every situation," Goletz said. "They've been in big games and been down a goal. When you're in a game like this where you don't play your best, it's a testament to the seniors for leading us.
"They're back here again and have a chance to repeat as state champions. To be in the state finals for three straight years is an unbelievable accomplishment and I couldn't be happier for this group. I hope that we give it everything that we've got one last time."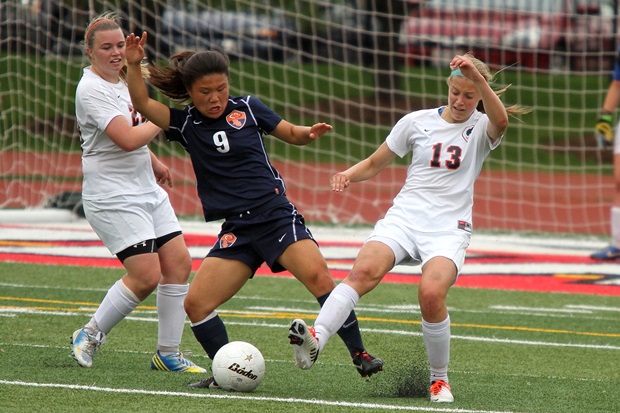 Midway through the match, it was anyone's guess as to who would advance has both sides had few chances in the opening 40 minutes.
Climo bounced an early free kick off the post, sent another free kick to Emily Bromagen for a header and was denied on a shot.
Buffalo Grove received a shot on goal on a free kick from Carly Brown and also saw Jessica Kovach send a liner to Baenziger.
Opportunities picked up for the Huskies after the break as Christa Szalach was stopped on a header and Swift fired in a liner.
The Bison responded with an attempt from Allie Ingham shortly after the break and a header from Kelli Zickert near the midpoint.
After Megan Gardner lined a try to the Huskie keeper, O'Connor punched away a corner kick from Climo with a quarter hour left.
In the 67th minute, North connected as Climo found Lee, who sent a header off the corner of the frame and then put in the rebound.
"Coach Goletz just told us flat out that our first half was bad," Lee said. "That's not how you win state championships so we knew that we had to pick up the energy and do better. We started getting opportunities and our momentum improved.
"Cora dribbled the ball down the line and sent me a perfect ball, which she consistently does. I headed the ball off the corner and when that happens, you really don't have time to think, you just have to do it and put it in the goal.
"After I scored, it definitely brought up our momentum and our energy, and almost right after that, Abbie was able to score. It's an amazing feeling being with this group of girls. All of the seniors inspire me and they're always pushing me to do better."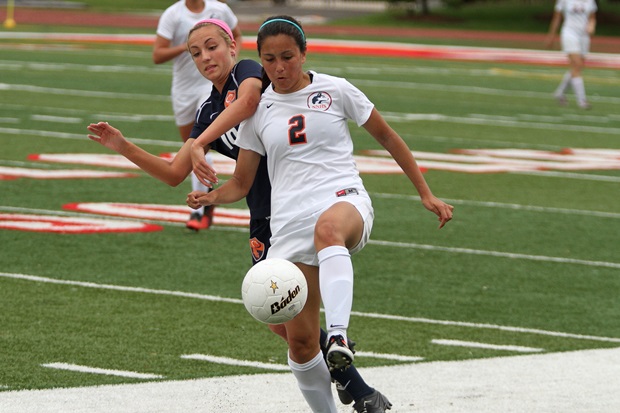 The Huskies needed just under two minutes to add an insurance tally as they scored again in the 69th minute to end the drama.
Swift directed a pass to Boswell, who dribbled toward the net before putting in a short shot for her 28th goal of the season.
Buffalo Grove tried to quickly get a score back but a liner by Zickert was thwarted and an attempt from Ingham hit the post.
"This is really amazing," Bromagen said. "I can't believe that we've gotten here for the past three years, but it's a team effort. We all have such hard work and dedication in order to get back to where we are today.
"We weren't playing like how we wanted to in the first half and we all knew that. But in the second half we definitely stepped it up nand played like how we should. We're not exactly happy with how we played but we'll have the heart in the finals.
"We have 11 seniors plus a lot of players from the 2011 and 2012 teams so our experience really helps. We're really fortunate that some of us have been able to get here three years in a row. I'm so happy to be back and I can speak for everyone on our team."