Red Devils reach state finals after shutting out Sandburg
Photos courtesy of Harrison Bull
By Matt Le Cren

During most long playoff runs there are memorable moments that will live on long after the games have ended.

Regardless of whether Hinsdale Central wins the state championship this weekend in Naperville, the Red Devils and their fans won't soon forget two such plays that occurred during the Class 3A Lewis University Super-Sectional.

It took 24 hours over two days, but the Red Devils knocked off Sandburg 2-0 to earn their first trip to the state finals since they won their first state championship in 2009. The two goals were scored in fantastic fashion by Casey May and Alex Otto, the first on Tuesday and the second on Wednesday.

Those goals, along with some terrific defense, propelled the Red Devils (17-3-3) into the state semifinals, where they will meet Barrington at 7 p.m. Friday at North Central College. Defending champion Naperville North takes on Buffalo Grove in the first semifinal at 5 p.m.

"I can't even believe that we're going to state," May said. "We've worked so hard for this and I think it's a great opportunity for our team. We deserve it and I'm glad we're going. I hope we do well."

May and Mother Nature teamed up for an electrifying moment on Tuesday, which saw thunderstorms halt the match with 34:47 left in the first half.
The suspension came right after May scored on a 25-yard rocket into the upper right corner of the net as lightning lit up the sky behind the net.

Alison Cerny set up the goal, which came on the first shot of the contest, by sending a long ball through the midfield to the streaking May, who fired a perfect shot on the dead run over the outstretched fingers of leaping Sandburg goalie Nicole Kulovitz.

"I didn't even see [the lighting] until afterwards," May said. "Alison did a great job controlling it in the middle and as she brought it up I called for it because I saw there was a gap.
"And she saw there was a gap so when she had an opportunity she passed it to me and then I cut the defender and shot it there."

Both teams were immediately sent to the shelter of a nearby building as the storm hit and about 30 minutes later the game was postponed until Wednesday. Needless to say, sleeping on the lead was something the Red Devils enjoyed.

"It just gave us some comfort knowing that we were up 1-0," May said. "We knew that the game wasn't over but just having that 1-0 cushion really helped."

But Sandburg (16-6-3), which had won nine of its last 10 matches, was by no means down for the count.

"I think our girls did a good job of dealing with it," Sandburg coach Desi Vuillaume said.
"Our last game we went down 1-0 early in the game and we talked about having patience and keeping with our style of soccer, same thing we did today. It's not something you want to go into a game with but I think we did a good job of handling it."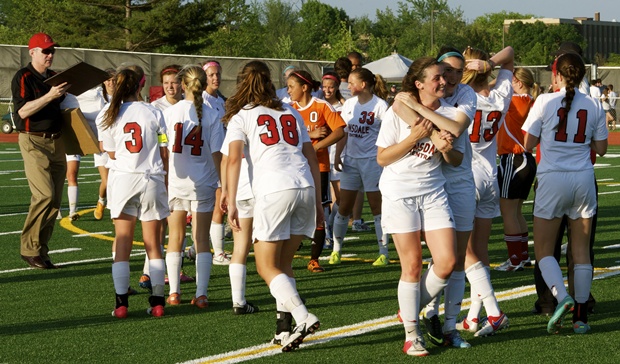 Indeed, when play resumed under sunny skies on Wednesday it was the Eagles who took the initiative. Though the game was dominated by the defenses, Sandburg enjoyed more of the possession and put some pressure on the Red Devils, earning three corner kicks and three free kicks from distance.

"We've got to clean up some little things," Hinsdale Central coach Michael Smith said. "The girls will tell you they wouldn't have been happy with our play but this is the time of the year you just need to get a result.

"We had our nervy moments here and there but the one thing I will say, as I told Sandburg's coach, I appreciate the fact they knocked the ball around, they moved it, they made us chase. For the first time in the playoffs, we had to figure out how to keep our shape."
The Red Devils did that as goalie Riley Glenn made three of her four saves before intermission and the back line, which might as well call itself "Camden's Wall" in honor of senior stopper Katie Camden, kept a bunch of other dangerous balls from going in the back of the net.

Glenn and backup Katy Coseglia, who played the final 6:30, shared Central's 13th shutout in large part due to Camden, who was flying all over the place blocking shots, winning 50-50 balls and generally doing whatever she had to in blunting the Eagles' attack. Fellow defenders Lily Chetosky, Katherine Treankler and Christa Kuhlman also worked hard.

"They definitely came out really hard," Camden said. "We got a ton of pressure in the first half. I don't think we were really expecting them to come at our defense that quickly but I think we dealt with them really well.

"After half I think we came out stronger and played more of our style of play. I was really proud of how we ended the game."


Though there were still some nervous moments, the Eagles mustered only two shots after halftime as the Red Devils gradually started to gain momentum.

Cerny had a great chance early in the second half rejected when her open 12-yard shot was deflected away by Kulovitz.
Ten minutes later, Kulovitz made a diving stop on May, who now has scored 10 career playoff goals, including eight this season.

Cerny barely missed scoring two minutes after that when she chipped a 23-yard free kick over the defensive wall and off the left post.
The Red Devils finally got their insurance goal with 15:09 to go, scoring a goal off a short corner kick.
Meghan Schick rolled the ball along the left end line to Cerny, who passed to Otto near the top of the left side of the penalty area.

Otto, a junior midfielder who started the season on the JV squad, settled the ball and calmly lifted a 16-yard shot over the Eagles defense and inside the far post for her first career goal.

"She's a young lady who at the beginning of the season went out for varsity and we said you're not ready yet but work on these things, fix these things and come back," Smith said.
"She's playing about 15-20 minutes a game and I'm happy for her [and] the fact that she moved into the space to show herself early and then the finish was impressive. It was composed."

Short corner kicks rarely result in goals because it gives defenses time to set up, but the Red Devils try them fairly frequently, believing that they stretch the defense and thus open up shooting lanes if executed properly.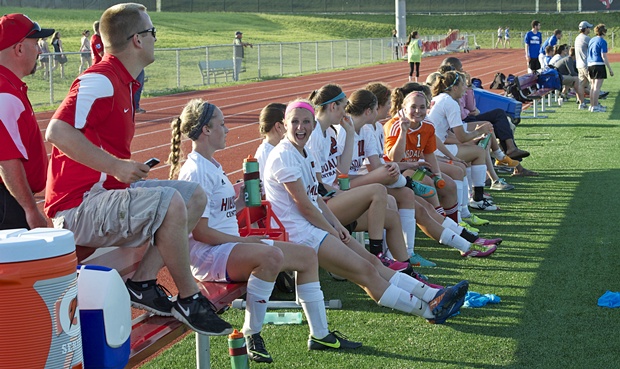 "We practice it quite a few times, especially in the last week," Otto said. "[Scoring] felt pretty amazing, pretty unreal, too. I'm glad I finished it.

"They were on us for a good part of the game and I think [the goal] just helped encourage our team and just got us going and [we told each other], 'hey, we've got this, just relax and play your game.' It feels pretty good and I'm just really glad that I'm here and I'm part of this team."

Now it's on to the semifinals. The Red Devils have already secured the third state trophy in program history but they feel they have just as much chance as the other three teams to bring home the state title.

Hinsdale Central has not played Barrington (18-4-1), which is riding a nine-game winning streak or Buffalo Grove (25-2-1). The Red Devils were one of two teams to tie Naperville North (20-0-2), drawing 1-1 on March 16.

This weekend will be especially memorable for Camden, May, Treankler and fellow seniors Jenn Jarmy, Caitlin Smith, Madeline Engelking, Lauren Zapka, Maddie McCormick and Darby Moran.

"It means so much to us," Camden said. "All the seniors on this team are so close and the entire team has responded so well and we all want it so much. We really think we can go all the way and we have all the support. We believe in ourselves and I'm really proud of how everyone played. I think we can definitely do it."