2013 ROSTER

Coach: Michael Smith

Katy Coseglia
Fr., GK
Riley Glenn
JR., GK
Alison Cerny
Jr., M
Caitlin Smith
Sr., M
Casey May
Sr., M
Jenn Jarmy
Sr., M
Madeline Engelking
Sr., M
Christa Kuhlman
Jr., D
Danielle Shayani
So., M
Lauren Zapka
Sr., D
Darby Moran
Sr., M
Erin Smith
So., D
Abby Gurka
Jr., M
Jenny Saviski
So., D
Kaitlyn Livingston
So., M
Meghan Schick
Jr., M
Katherine Treankler
Sr., D
Lily Chetosky
Jr., M
Emily LaRocque
Fr., M
Katie Camden
Sr., D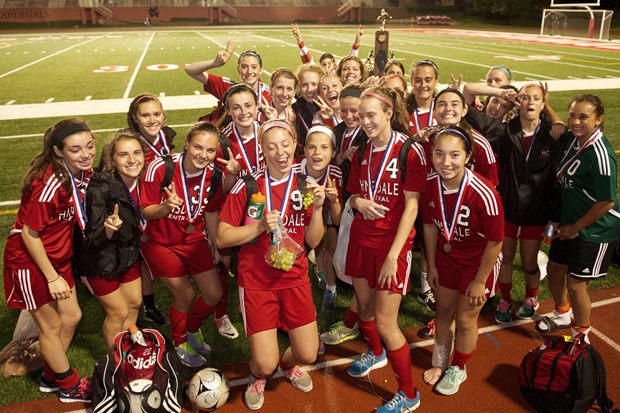 Red Devils cap a fine season by finishing second in state
By Gary Larsen
CLICK HERE FOR PHOTOS COURTESY OF HARRISON BULL

It wasn't the trophy they came for, but the girls from Hinsdale Central walked away from this year's Class 3A state title game with their heads held high.

After all, there's no shame in losing 2-1 to a Naperville North team that has not lost a soccer game in regulation in two years, and posted its second consecutive state title with Saturday's win.

So not only were the Red Devils justifiably proud of the second-place state trophy they hoisted afterwards, they also had reason to be proud of the proverbial journey that got them to the rarefied destination of the Illinois state finals.

"This is so great," Red Devils' senior defender Lauren Zapka said. "There are girls on this team I've played with for twelve years now, so it's hard to leave. Playing with them has been great and the chemistry we have has gotten us so far this year."

The story of this year's Red Devils actually began last season. A young team that went 6-12-2 during the regular season -- with most of the same players returning to this year's team -- caught fire in the postseason, winning three games and reaching a sectional title game.

It was head coach Michael Smith's first year after succeeding former coach Skip Begley, who had guided the team to a state title in 2009. Smith wanted to implement a style of play at Hinsdale Central that would permeate all levels, so patience was required by all parties involved.

"Last year was frustrating just because it was a new system, a new style, and the expectation that we are going to play a certain style of soccer, and that's it," Smith said. "What they realized by the end of last year was 'we can do this and we can do this at a high level and do this consistently'.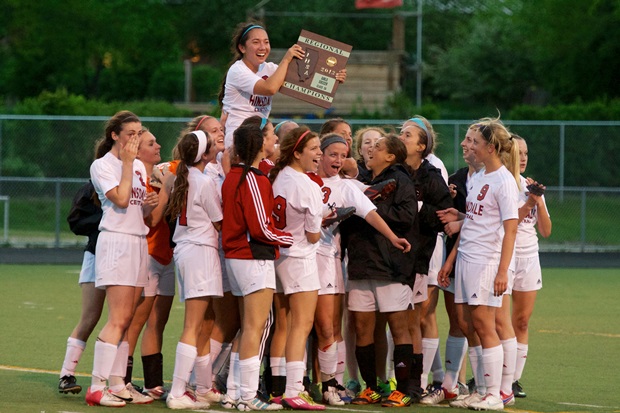 "So that prepared us for this year, with a lot of returning players that wanted to start where we left off last year, and find little ways to get better and be more successful, especially in the wins column. We found ways to win this year and we won our way."

This year's team started 4-0-1, including a 1-1 tie with Naperville North back on March 16, and only gave up one goal in five games. Keepers Riley Glenn and Katy Coseglia, along with defenders Zapka, Erin Smith, Katherine Treankler, Katie Camden, Christa Kuhlman, Jenny Saviski, Maddie McCormick, and Abby Gurka keyed a defense that posted 14 shutouts and had only given up 15 goals in 24 games heading into Saturday's title game.

"The core four did a great job. I think Katherine Treankler and Katie Camden both do a solid job in the back and it's rare that they let anything by them," Zapka said. "It's been great playing next to them."

Central defender Treankler spread the credit around.

"Our defense really is the whole team, not just one person making a good play," Treankler said after her side's 1-0 state semifinal win over Barrington. "We've had a great season but we really hit our peak at the perfect time. We've never really been concerned with rankings and we take it one game at a time. We just try to go and get the best result that we can and we've done that throughout the season."

The Red Devils were 8-1-2 this year after wins over Fremd, Waubonsie Valley, and then a 2-0 win over conference rival Oak Park and River Forest on April 23. They also reached the quarterfinals of the most formidable regular-season tournament in Illinois, the Naperville Invitational.

After losses to Neuqua Valley and Geneva, Hinsdale Central embarked on a 10-0-1 run that took the Red Devils to the state title game, outscoring their opponents 30-4 during that run.




Smith's team-wide possession and attacking philosophy has been orchestrated well throughout the year by players like Jarmy, Casey May, Darby Moran, Alison Cerny, Megan Schick, Lily Chetosky, Kaitlyn Livingston, Kristen Kozarits, Caitlin Smith, Madeline Engelking, Alex Otto, Emily LaRocque, and Danielle Shayani.

The Red Devils will lose nine seniors to graduation and Smith is grateful for more than just their respective roles in getting his program to this year's state title game.

"The senior class, collectively, have laid a foundation for all the other players in the program and for all the girls that will play Hinsdale Central soccer. This is what we want and what we want to expect, every year," Smith said. "Naperville North has been here every year (for three years) for a reason. That's the same thing we aspire to do at Hinsdale Central. We have some young players sitting in the stands tonight saying 'we want to be here next year'. So it's a mentality, and the future is bright."

Central opened this year's postseason with a 9-0 win over Proviso East before Cerny buried the game-winner against Wheaton North to cap a Red Devils comeback in a regional final.

May struck twice and Cerny had a goal in a 3-0 sectional semifinal against Benet, and May scored two early goals in a sectional final to spur Central on to a 3-1 win over arch rival Lyons Township in a sectional title game.

May and Alex Otto scored in the team's 2-0 supersectional win over Carl Sandburg that sent Central to the state finals, and Cerny had the game's lone goal off an Engelking assist in a state semifinal win over Barrington on Friday.

Against Naperville North, Central fell behind 2-0 on a pair of goals by the Huskies' all-American player, Kentucky-bound striker Zoe Swift.

"I think it was just a marking issue. They scored and then we held them off for a while but we were playing catch-up, and that was hard to do," Zapka said. "But (Schick's) goal helped a lot."

Schick located a ball in a scrum near North's goalmouth and buried it at the 50-minute mark, cutting the defending state champ's lead in half and lighting a fire under the Red Devils.

Sitting high above the field at North Central College, the retired architect of Naperville North's soccer program sat in the press box and assessed the effect of Schick's goal on the game's remaining 30 minutes.

"Right now for Naperville North, the clock is going tick…tick…tick," hall-of-fame coach Al Harris said. "And for Hinsdale Central, it's going tick-tick-tick-tick-tick."

Indeed, Schick's goal shifted the Red Devils into a sixth gear of urgency.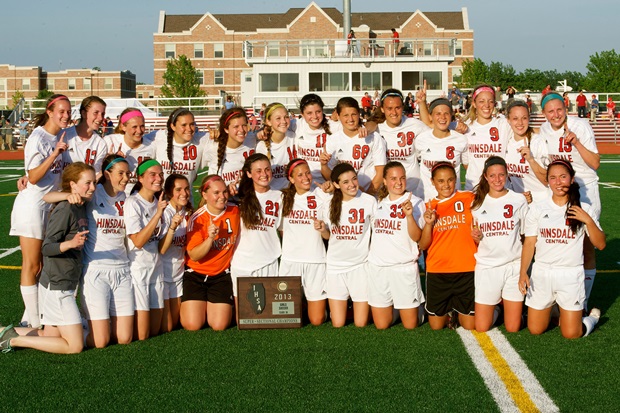 "That goal was a huge motivational factor and it helped us a lot," Central senior mid Jenn Jarmy said. "We got our heads back up and knew we were back in the game, and we gave it our all. We poured our hearts out in the second half but unfortunately it wasn't enough to get another goal. I'm just so proud of our girls for getting all the way here."

The Red Devils fought hard for an equalizing goal and even though it wasn't to be, for Smith it didn't diminish the effort put forth by his girls.

"The girls showed that we're a quality side," Smith said. "We believed that all season but we needed to prove it on the field to everyone else that we belonged here as well. We had some moments where we changed their style. We made them deal with us a lot and they were on their heels, especially in the second half.

"They are defending state champions and state champions this year for a reason. They had two chances, really, in the first half and they put it away. Zoe Swift is an amazing player for a reason. But even collectively, they play with a passion and a hunger of champions. Not that our girls didn't, but they had a little bit more when it counted in certain moments.

"As a coaching staff we are more than pleased with what the team did this year."

Jarmy sent kudos right back in the direction of the Red Devils' head coach.

"Coach Smith – he has a little bit different style of coaching and I love him to death," she said. "He has been there for us the whole way. He's very composed and that helps us a lot because if we get too fired up he composes us and that translates to our style of play. His coaching style really helps us and I think he was a big part of why we got here and I thank him a lot for that."