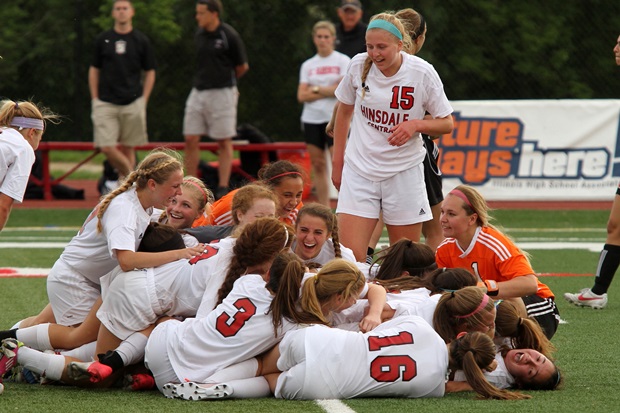 Red Devils defeat Fillies to advance to 3A championship
Photos by Gary Larsen
By Curt Herron
Very few large school teams have been below .500 one season and then played for a state championship the next year.
That's why it might have been easy to not focus too much on a team like Hinsdale Central as it kicked off the 2013 campaign.
Despite falling to third-place Downers Grove South on penalties in the sectional final, the Red Devils finished with a 9-13-2 mark.
But coach Michael Smith returned nearly everyone from that squad, giving hope that this would be a much different season.
When you consider that Hinsdale has doubled last year's win total and eclipsed it during its current unbeaten streak, it's safe to say that this is a different squad.
The Red Devils won their sixth straight match and improved to 10-1 at the end of the regular season and in the playoffs.
Their latest triumph came on Friday when they claimed a 1-0 Class 3A semifinal win over Barrington at North Central College.
Alison Cerny scored following an assist from Madeline Engelking in the 44th minute and the defense made that score stand.
Riley Glenn made six saves to post the Red Devils' seventh shutout of the unbeaten streak as well as their 14th of the year.
As a result, Hinsdale (18-3-3) advances to today's 7 p.m. title match with Naperville North (21-0-2), which won 2-0 over Buffalo Grove.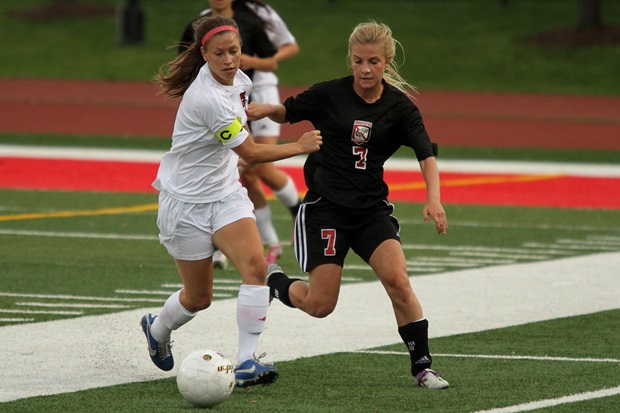 The squads actually faced one another on March 16 and wound up playing to a 1-1 draw in a match that means little right now.
Hinsdale won state in 2009 with Skip Begley as coach. Only one other Red Devil girls team (2002 basketball) played for a state tournament title, which they also won.
The Red Devils have a tall task ahead of them against North, which is playing for its third straight 3A title and trying to repeat as champions.
But after snapping a nine-match win streak by Barrington (18-5-1), Hinsdale feels good about how it's playing going into the title match.
"By playing to our strengths, we put ourselves in a position to win close games," Smith said. "What I like offensively is that none of the girls feels like they have to do it. Alison stepped up and saw something that looked good and took a chance and that's what the game's about.
"I'd be remiss if I didn't talk about our two center backs, Kat Treankler and Katie Camden, and our holding mid, Caitlin Smith. All three of them play 80 minutes and they locked down the middle of the field and our outside backs kept good shape, too.
"Riley Glenn played well and came out and dealt with balls in the air and punched a few. When your goalie is aggressive, it gives your backline confidence. Our team's mentality is that I'll do the work because I know that you'll do the work. When we work together like that, we're dangerous."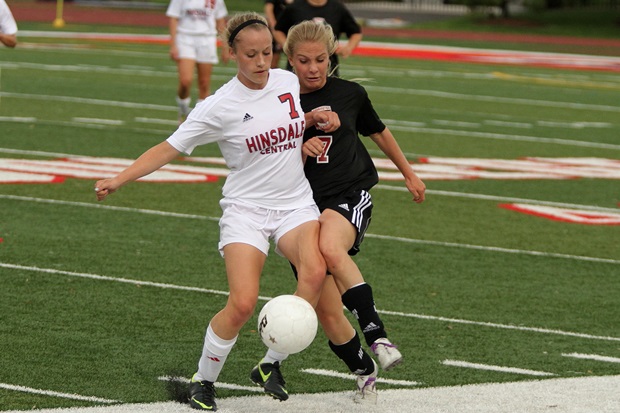 The Fillies, who advanced to the state finals for the first time since 2006, were hoping to return to the title match as they did that year, when they took second.
Barrington All-Stater Molly Pfeiffer was impressed with the teamwork of the squad that ended her team's championship hopes.
"They're all very good players, a very well-rounded team, and I think that's what did it for them," Pfeiffer said. "They didn't have one star player, they just worked as a team and worked for each other, I think."
The Red Devils coach has not only gotten his squad playing very efficiently, but also has playing with a great deal of confidence.
"We have a lot of role definition, but not when it comes to limiting what they're capable of doing," Smith said. "Alison saw something that she liked and attacked the space. And on defense, Christa Kuhlman on the right side isolated Jenna Szczesny and just kept her in front of her.
"It helps to have some seniors who've been through it. But also what they've done is pass on that knowledge and that composure to the younger players. So when it gets late in a game, it's not, 'what do we do?', it's 'we'll keep playing our style.' That's what has put us in this position.
"We're blessed since we have some phenomenal young women on this team. We can talk about their GPAs, volunteer work and strong family structure. They bring all of that to us, so we're not just talking about soccer, but we're also talking about life. We try to tie it together and because they have strong character, it doesn't seem like anything new."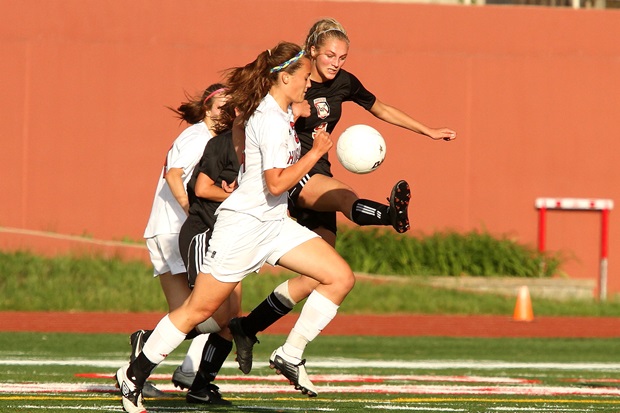 The final stat sheet shows Casey May with getting off three attempts which were halted by Fillies keeper Hannah Luedtke.
Meanwhile, Pfeiffer was credited with no shots on goal while Mia Calamari and Jenna Szczesny each sent two tries to Glenn.
Barrington was averaging over four goals a match during its winning streak but was shut out for the fourth time this season.
"Our defense really is the whole team, not just one person making a good play," Katherine Treankler said. "It took everyone today to help our defense out. They had some good shots on goal but in the end, everyone worked hard and we wanted it more.
"We've had a great season but we really hit our peak at the perfect time. We've never really been concerned with rankings and we take it one game at a time. We just try to go and get the best result that we can and we've done that throughout the season.
"I like how everyone thinks about the team first.No matter how things are going and whether or not you're having a bad day, everyone comes to practice and works their hardest. We knew that we could do this, but now it's real and we could not be more excited."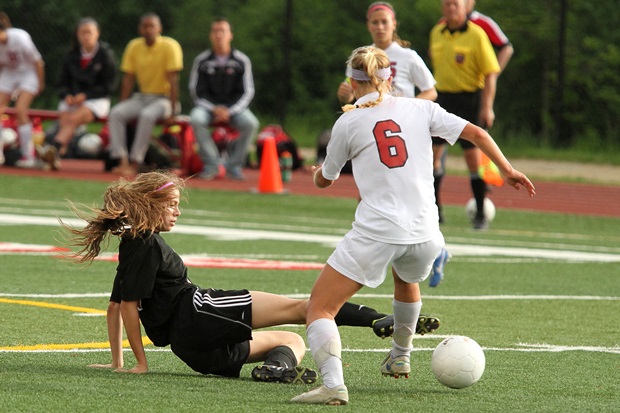 After the Red Devils moved ahead early in the final half, the Fillies kept the pressure on but Glenn stopped everything she faced.
Calamari had a corner kick headed away by a defender, Szczesny bounced a try off the post and then May was denied on an attempt.
In the final quarter hour, Calamari had one corner punched away and another hit the crossbar as the Red Devils wrapped things up.
"This is crazy," said Red Devil tri-captain Caitlin Smith. "We have a ton of seniors on this team so we knew that we had the ability to make it to state. We had a pretty good run last year and we wanted to get past that. This has been so exciting.
"We're all really close as a team and it's important to know how we all play and what we can do to accommodate our teammates to make it easier for them. We knew that Barrington was a real physical team and that they would bring it so we would have to play hard.

"This is completely new to all of us. We looked at this when we were younger and saw the state game, so this has been a dream for us. We played Naperville North earlier this season and we tied them. We're at our highest point right now so that's good."