2013 ROSTER

Coach: Pat Dudle

Shannon Guercio
Sr., D
Sarah O'Connor
So., GK/M
Jessica Kovach
So., M
Skylar Groth
Jr., M
Sara Brawley
Jr., D
Kim Herzog
Jr., M
Colleen Zickert
Jr., M
Kelli Zickert
Jr., M
Megan Gardner
Jr., F
Kelly VandeMerkt
Sr., D
Carly Brown
Sr., M
JayJay Lowery
Sr., D
Kirsten Erickson
Sr., GK
Elizabeth Chan
Jr., D
Sara Busse
So., F
Jessica Ahumada
So., M
Allie Ingham
Jr., F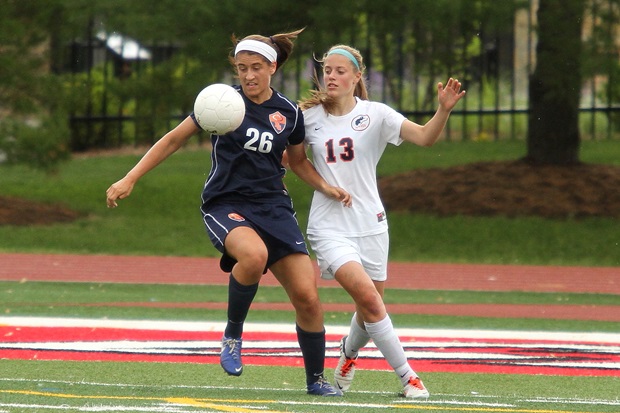 Bison fall to defending state champion Naperville North
By Gary Larsen

When it was over on Friday, according to IHSA statistics, Buffalo Grove had put eight shots on frame against Naperville North, while North had six shots on net in their Class 3A state semifinal game.

Unfortunately for BG, the defending state champs buried two of those shots while keeping the Bison off the board.

The Huskies scored twice within a two-minute span of the second half in winning 2-0 and moving on to play Hinsdale Central in a state title game on Saturday night, at North Central College in Naperville.

"Before the goals we were working hard but just couldn't figure out how to get behind the back," Buffalo Grove junior Kelly Zickert said. "That was real trouble for us. We couldn't find feet."

The Bison (25-3-1) will play MSL foe Barrington (18-5-1) in Saturday's third-place game on Saturday.
Through 40 minutes of play against Naperville North (21-0-2), the Bison gave as well as they got against a Huskies team that has lost only a single game in the last two years.

Buffalo Grove coach Pat Dudle was hopeful that his girls could find a good, clean look on net in the second half but the Huskies wouldn't break.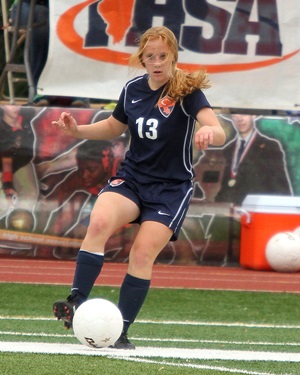 "They were absorbing so much defensively that I thought we could have turned with the ball and faced up, and been more patient," Dudle said. "But they're solid defensively, they put numbers behind the ball, and they're solid at every position on the field."

Disaster struck at 67 minutes for the Bison, on a North throw-in that Meghan Lee headed off the crossbar before following it up and booting it into the goal. North's Abbie Boswell made it 2-0 at 69 minutes when she drove up the left side and sent her left-footed shot inside the far post.

"Naperville North is a tough team. They're seasoned, talented, and they played a great game today. They capitalized on their chance. We tried to equalize, got numbers forward, and then they're very good at countering as well. Their two strikers (Boswell and Zoe Swift) up top are two very talented players.

"They were waiting for that one chance and they made a great play on the goal. It was simple soccer -- knock it back to the person that threw it in, a great service, great initial head ball and then they put it in the back of the net."

Overall, the Bison forced eight saves from North keeper Fiona Baenziger but finding a truly dangerous shot proved elusive.

"We pushed hard because you want to get the goal back, and even after the second goal we kept pushing, trying to get it back," Zickert said. "I think we connected more to feet in the first half. In the second half we just weren't possessing. We felt like we were in it and we were playing to feet but we couldn't put the ball in the back of the net."

Buffalo Grove and Barrington will play at 5 p.m. today at North Central. While the third-place game may be annually anti-climactic for the teams involved, it's also the last time either side's players will ever play together as a team.

And third is always better than fourth.

"We know we're guaranteed two games this weekend and only two teams end the season with a win," Dudle said. "So we're going to go for a win."