2013 ROSTER

Coach: Ryan Stengren

Hannah Luedtke
So., GK
Alexa Dargis
So., GK
Hollis Anderson
Sr., M/F
Mia Calamari
Jr., M
Jennifer Flannery
Sr., M
Meredith Slott
Sr., D
Alex Avers
Jr., M
Aimee Pierce
Sr., M
Emily Morin
Sr., D
Molly Pfeiffer
Sr., F/M
Jenna Szczesny
So., F
Megan Fox
So., M
Kelsey Muniz
So., F/M
Gabby McLaurin
JR., D
Emily Decraene
Jr., D
Gillian Hood
Jr., D
Carrie Caplin
Jr., D
Annalise Avers
So., M
Katie Hoots
Jr., M
Elli Ackermann
Jr., F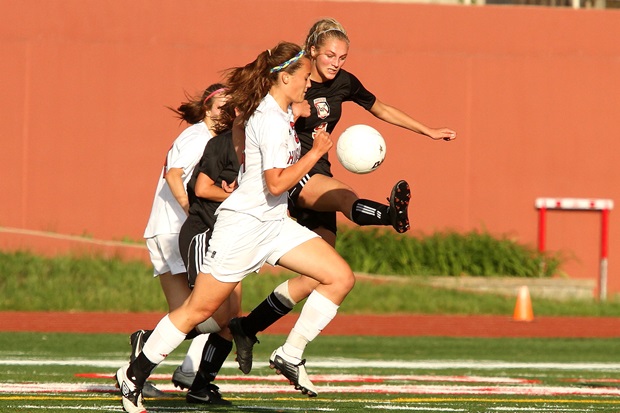 Fillies fall 1-0 to Hinsdale Central in state semifinal game
By Gary Larsen

Every year, postseason soccer is about prolonging the pain for all but one team in each class, and Barrington prolonged that pain all the way to a Class 3A state semifinal game on Friday.

The Fillies' 1-0 loss to Hinsdale Central at North Central College sends them to a consolation game on Saturday against MSL rival Buffalo Grove.

Allison Cerny scored three minutes into the second half for Hinsdale Central (18-3-3) and the Red Devils then did something that teams have struggled to pull off against Barrington (18-5-1) all season.

"That's only the (fourth) time we've been shut out this year," Barrington coach Ryan Stengren said. "You need a little luck and we didn't get any today. We hit a couple posts today but that's the way it goes. Give Hinsdale credit. They played hard and they played well, and they limited our chances."

Fillies' striker Jenna Szczesny was nearly in on Central keeper Riley Glenn twice in the first half, and the sophomore hit a ball off the post in the second half, but the Barrington attack was shut down.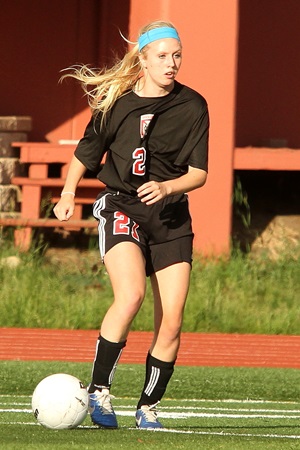 "When you get into a game like this you've got to have a lot of people playing well, and we never really got into a rhythm," he said. "We never played up to our expectations."

Cerny's goal came from 18 yards out when she hit a ball that hit the turf in front of Barrington keeper Hannah Luedtke and then spun out of her hands and into net. Afterwards, Fillies' senior Molly Pfeiffer was quick to support her all-state goalkeeper.

"Hats off to Hannah Luedtke. She's bummed right now but she has not made one mistake this entire season and we would not be here without her," Pfeiffer said. "She's the best goalie I've ever played with.

"It took us too long to react to their goal and our pressure wasn't the same the last ten or fifteen minutes of the game. In a semifinal game, that isn't good enough. You have to pressure the whole game and unfortunately we didn't do that tonight. To not be able to finish – it (stinks)."

Stengren agreed that his side's reaction to falling behind a goal – in a state semifinal game, no less -- wasn't quite what it needed to be.

"Scoring first is huge and we expended a lot of energy today trying to chase the game, and it's a different game if you score first," he said. "We were doing a lot of uncharacteristic things out there and the moment – the clock was ticking down – started to get to us."

Pfeiffer also tipped her hat to the Red Devils as they enter Saturday's title game against defending state champion Naperville North (21-0-2), a 2-0 winner over Buffalo Grove in Friday's first semifinal.

"We knew Rockford Boylan had Abby Reed. We knew St. Charles North were a super-fast-paced, super energetic team," Pfeiffer said of Barrington's previous two postseason opponents. "Hinsdale Central didn't have that one thing, so there wasn't that one thing we could focus on. It was team we just had to play against and that would have to be good enough.

"They're all very good players, a very well-rounded team, and I think that's what did it for them. They didn't have one star player, I think they just worked as a team and worked for each other."
Barrington and Bufalo Grove will meet for the third time this season on Saturday with a third-place state trophy on the line. The teams split their pair of regular-season MSL games this year.