2013 ROSTER

Coach: Ryan Stengren

Hannah Luedtke
So., GK
Alexa Dargis
So., GK
Hollis Anderson
Sr., M/F
Mia Calamari
Jr., M
Jennifer Flannery
Sr., M
Meredith Slott
Sr., D
Alex Avers
Jr., M
Aimee Pierce
Sr., M
Emily Morin
Sr., D
Molly Pfeiffer
Sr., F/M
Jenna Szczesny
So., F
Megan Fox
So., M
Kelsey Muniz
So., F/M
Gabby McLaurin
JR., D
Emily Decraene
Jr., D
Gillian Hood
Jr., D
Carrie Caplin
Jr., D
Annalise Avers
So., M
Katie Hoots
Jr., M
Elli Ackermann
Jr., F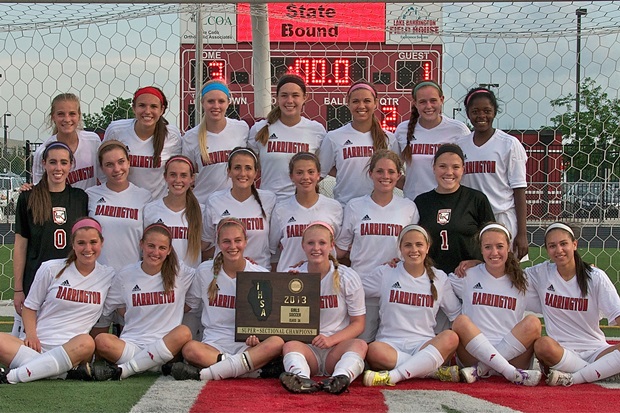 Fillies top BG, hoist 3rd-place trophy
By Gary Larsen
Two years ago it was Conant and Fremd, proudly representing the Mid Suburban League at the Class 3A state finals and finishing third and fourth in Illinois, respectively.

This year it was Barrington (19-5-1) and Buffalo Grove (25-4-1), two more MSL teams doing the conference proud, playing in the state's Final Four, and squaring off in this year's third-place game in Naperville.

Barrington went out 2-0 winners over Buffalo Grove, and that's a privileged thing to do at the end of a high school soccer season.

"It's an unusual circumstance to win your last game, but you're not winning first in state," Barrington senior Meredith Slott said. "There aren't many times when you know it's your last game so we came in today very motivated."

Teammate and senior Aimee Pierce agreed.

"It was a great way to end for us," Pierce said. "We were excited just to go to state but we definitely didn't play our best yesterday. But it was a great way to end it. This is pretty much the end of my soccer career so I'm happy we went out with a win."

Barrington sophomore Jenna Szczesny scored both of Saturday's goals in the second half of a hard-fought game that marked the third game this season between the Fillies and Bison.

Buffalo Grove won 2-1 over Barrington in their regular-season game, and Barrington avenged that loss by winning 2-0 over the Bison in this year's MSL Cup game.

The rubber match went Barrington's way but it didn't diminish a record-setting year at Buffalo Grove.

"It was the best year our program has ever seen and hopefully it continues, and I think it will for the next couple years because this is a younger team," BG senior Carly Brown said. "It was definitely not fun to lose but the fact that we got here was a really exciting experience, especially since we're one of only a few teams that got to state."

Buffalo Grove placed second in state back in 1992 and fourth in '93 and '95. Friday's state finals appearance was the first for the program in 18 years after this year's Bison won the MSL East and won the title at this year's Pepsi Showdown.

BG knocked the ball around with the best of them this season, with juniors on the field as far as the eye can see. Scoring-wise, junior midfielder Kelli Zickert led the way with 31 goals and 11 assists, followed by junior striker Allie Ingham with 15 goals and 8 assists, but the Bison had no shortage of quick and skilled players.

The Bison got 8 goals apiece from juniors Skylar Groth, Colleen Zickert, and Kim Herzog, and 7 goals from sophomore striker Sara Busse, who also had 10 assists on the year. Colleen Zickert also had 9 assists and Kovach finished with 7 assists this season.

Herzog and Brown also helped the attack move forward from their outside mid positions for a Buffalo Grove team that posted an 87 to 13 scoring edge through its 2-0 supersectional win over Loyola on May 28, and went 20-0-1 before losing its first game this season.

The Bison's defense was overshadowed by the reputation of its collective attack, but a converted field player in Sarah O'Connor developed into a fine goalkeeper this year while defensive play from the likes of Shannon Guercio, Sara Brawley, JayJay Lowery, Kelly VandeMerkt, and Elizabeth Chan helped the team to 17 shutouts this year.

BG will graduate seniors Guercio, VandeMerkt, Lowery, and Brown from this year's team but the chief architects of its attack will return next season.

"We're going to miss our seniors because they helped get us here, and hopefully this gives us some seasoning. We'd love to be back here next year," BG coach Pat Dudle said. "We know it's not easy but I know these kids will work hard to get back here."

Barrington will also bid farewell to a group of seniors in Slott, Molly Pfeiffer, Aimee Pierce, Emily Morin, Jennifer Flannery, and Hollis Anderson. Pfeiffer, Pierce, and Morin have played for coach Ryan Stengren at the varsity level for four years.

"It got emotional in the pre-game conversation for me because I have such strong ties to these seniors, and it's hard to let go, especially of the ones you've had for four years," Stengren said. "I think so much of these kids. They put us back on the map and you look at the careers they've had – not even their individual careers but playing in four supersectionals, and finishing third-place in state – this is just a great way to top it off.

"We really wanted to go out with a win for them. I've never coached a third-place game before and I was just happy we got every single kid in, and it was fun to end on a win."

This year's third-place trophy is Barrington's third piece of downstate hardware. The Fillies also placed second in 2006 and third in 2000.

After losing 2-1 to Buffalo Grove on April 15, the Fillies' record sat at 4-3-1. They went 15-2 the rest of the way, including a stretch of 15 games during which they only gave up four goals.

Keeper Hannah Luedtke went into the state finals with a goals-against average of .23 as defenders Morin, Slott, Pierce, Emily Decraene, Gabby McLaurin, Carrie Caplin, and Gillian Hood all contributed to a season of 16 shutouts and only 12 goals given up in 2013.

Offensively, the Fillies put 80 goals on the board this season. Sophomore striker Szczesny was the team's leading goalscorer with 25, while the Marquette-bound Pfeiffer had 12 goals and 11 assists in her senior season.

Junior center mid Mia Calamari was deadly on restarts this year and finished with 6 goals and 11 assists, Anderson netted 6 goals, while sophomore Annalise Avers scored 7 and fellow sophomore Kelsey Muniz finished with 5 goals and 6 assists. Junior Alex Avers had 3 goals and 5 assists while junior Elli Ackermann battled back from injury to score 5 goals this year.
Saturday's third-place game came on the heels of a pair of state semifinal losses for the MSL's two best teams in 2013. Buffalo Grove lost 2-0 to eventual state champion Naperville North on Friday, while Barrington fell 1-0 to eventual runner-up Hinsdale Central.
After the emotional let-down inherent after a state semifinal loss, Barrington's seniors headed off to graduation on Friday night while Bison players headed off to prom. But both sides managed a hard-fought effort in the third-place game on Saturday, despite the high emotion of the weekend's events.
"That was rough. Everyone we talked to was like congratulations on graduating, sorry for the loss, and good luck tomorrow," Slott said. "But it was nice to know that everyone knew about the game and was still pulling for us."
Stengren was happy to see his girls playing more loosely on Saturday.
"If we would have played like this yesterday we might have won. We played really tight yesterday," Stengren said. "If we can get back here we'll have more experience dealing with it. We didn't even enjoy the day yesterday and today I just wanted them to enjoy the whole moment, whether we won or lost. I just wanted them to enjoy it and you could see today that they were a different team."
Dudle was also pleased with what his girls had to give on Saturday.
"We had an enthusiastic first half and a lot of energy, and we know the third time playing Barrington is going to be a tough game," Dudle said. "It was a special season and the coaches and I had a ton of fun with this group of kids. They went about it the right way. They fought hard today, too, but Barrington deserved to win."