2013 ROSTER

Coach: Brad Abel

Morgan Harris
Jr., GK
Megan Brant
Jr., D
Kaitlyn Smetana
Sr., F
Emma Cook
So., M
Kayla Knauss
So., D
Sara Magnuson
Jr., D
Jessica Schmidt
So., M
Anne Korff
So., D
Emma Slosar
So., M
Abby Wendell
So., M
Danielle Papa
So., F
Lauren Gierman
Jr., F
Sarah Mulroe
Sr., M
Claire Schwaba
Jr., M
Amy Kappelman
Sr., D/M
Renee Poulos
Jr., M
Casey Weyhrich
Sr., M/F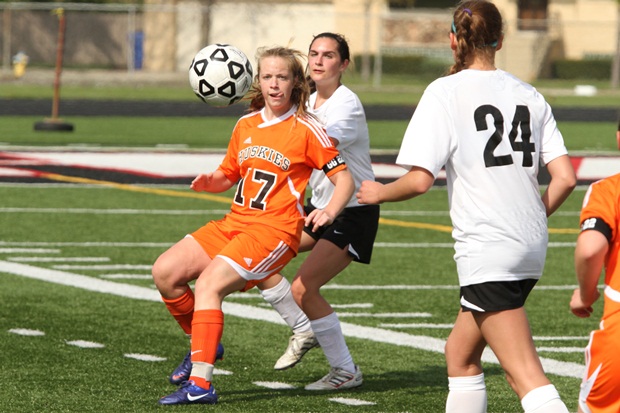 Gierman set to spearhead Hersey's attack
By Gary Larsen
As the youngest of five soccer-playing brothers and sisters, Hersey junior Lauren Gierman never really had a choice in the matter.

"My parents gave me the option but I spent a lot of time at soccer fields watching all my siblings play, and I just fell in love with it," Gierman said. "I knew it was a sport I wanted to grow up and play."

Gierman shed basketball and golf from her schedule over the past few years and Hersey coach Brad Abel is happy the Northern Illinois recruit decided to devote her time solely to the family business.

"Lauren is one of those types of players that every coach wishes to have," Abel said. "She has a natural gift for the game of soccer but she doesn't rely on skill alone.

"Her first touch on the ball is one of the best we have ever had in the program, and we'll be looking to rely heavily on her for offensive production."

Offense is where Gierman took a slightly different path than her siblings. Her brother Brian was an all-conference defender on Hersey's boys' 2007 MSL Cup champion team, and her sister Kristen was a senior defender for the University of Illinois in the fall.

Sister Nicole was a senior outside mid on last year's team at Hersey, but center mid/forward Lauren is the first Gierman to play right in the middle of the Hersey attack.

Gierman had 8 goals and 12 assists last season for a Hersey team that won the MSL East and finished 15-7-2 for the year. She had 6 goals and 7 assists as a freshman for the Huskies.

"Her role as a freshman was to be more of an attacking midfielder, and control the pace of the game," Abel said. "This year we will be looking for her to do the same but also to find the back of the net."

Gierman the distributor aims to walk that line between passing and putting shots on frame.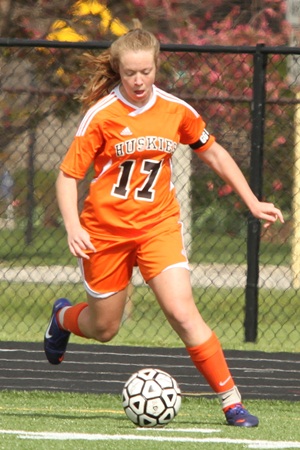 "A goal is nice but I know I don't need to score every time I touch the ball. I like to play it to my forwards and if they get the goal, I'll take the assist," Gierman said.

Along with Huskies' forwards Casey Weyhrich and Kaitlyn Smetana, Gierman will aim to put goals on the board for a team traditionally built on solid defensive play.

"The past couple of weeks of training have been good," Weyhrich said. "Everyone has been pushing themselves and each other. Lauren is a great player. She really knows how to control the middle of the field."
Gierman's skill set includes good field vision and a strong, accurate leg -- which her siblings also had a hand in developing.

"I always kicked it around with my older brothers and sisters so I grew up with a stronger kick than expected," Gierman said. "We have a big back yard and were always kicking it back and forth, and I live across the street from Hersey so we always had the opportunity to go and shoot on the goal. A lot of accuracy came from that."

Gierman plays club soccer with Sockers FC Chicago and has discussed playing the high school game with Northern Illinois coach John Ross, who echoed the common opinion of high school coaches everywhere when it comes to top-level players playing the high school game, alongside teammates of varying degrees of ability.

"(Ross) said he likes to see players playing out of their element to see how they react, and how they can play with other players," Gierman said. "Playing out of your comfort zone makes you better.

"I think we have a good team coming in. We're working on our conditioning and we might come out a little rusty, until we get the feel for how people are playing, but that's usually the way it is. But once we get more into the season and we bond, I think we'll be a good team again this year."