Allen's heroics help Fire U-17/18 open playoffs with a draw to California Development
By Curt Herron
If quality opportunities determined the outcome of a match, the Fire Academy's U-17/18 team would have been in big trouble on Friday.
In the opening day of competition at the U.S. Soccer Development Academy playoffs, California Development Academy dominated the Fire.
But putting the ball in the net, or in this case, keeping it out, spells the difference and that resulted in better news for Chicago.
Thanks to a spectacular performance from keeper Zak Allen, the Fire only allowed explosive California Development to score one goal.
That matched the score that the Fire collected earlier, resulting in a 1-1 draw between the two at Pizza Hut Park in Frisco, Texas.
Playing on a sunny afternoon where the 100 degree temperature was aided greatly by a breeze, the Fire were a step behind CDA all day.
But despite the Californian's best efforts to open pool play on a positive note, Allen repeatedly frustrated them with his efforts.
As a result, the squads head into Saturday's action a step behind Players Development Academy, which won 2-0 over the PA Classics.
The Fire (11-6-7) obviously have to perform much better on Saturday at 4:00 p.m. when they run into Players Development (18-5-4).
Pool play concludes on Monday with the top finisher from the eight groupings moving to the national finals in Milwaukee, Wisconsin.
"They just kept coming at us with their chances so I just tried to do the best that I could in order to keep the ball out of the net," said Allen.
"I should have increased my communication a little bit and my distribution could have been better, but that was hard against the wind in the second half.
"We were lucky to come away with a draw. We have to step up and work harder on Saturday. We still have a chance in our group, but we have to play better."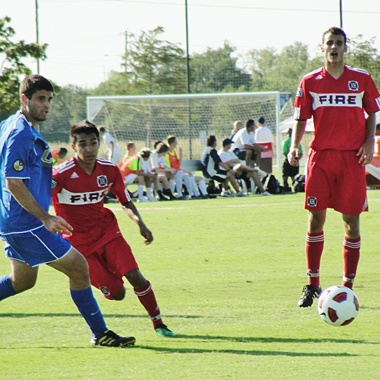 In a matchup of wildcard entries, it quickly became clear that the Sacramento-area squad was going to be a difficult opponent.
But despite having perhaps one good chance during the initial 45 minutes of play, the Fire capitalized on it for their score.
That came during the 36th minute after Jacob Brindle created a corner kick when his attempt from long-range was deflected away.
Lalo Cuautle's corner was initially headed away but eventually found Luis Medina, who fired in a line drive for the first goal.
Prior to that, CDA (12-5-9) started making things tough for Allen, beginning with with a sequence midway through the opening half.
After punching away a corner kick by Seth Casiple, Allen deflected a rebound effort from Andrew Mills that led to another corner.
Following its score, Chicago threatened again in the 40th minute when Keaton Albert sent a pass toward Brindle, who was denied.
CDA had a couple of more chances shortly before the break but Allen halted line drives from Connor Swartz and Tyler Thompson.
Around 20 minutes into the final half, CDA resumed the attack but Casiple was stopped on two separate short attempts by Allen.
About 10 minutes later, the Fire had their best chances of the final half but Manny Guzman and Daniel Lojek were wide on tries.
Shortly after having a liner stopped by the Fire keeper, Casiple put in a short attempt to tie things up in the 78th minute.
Down the stretch, Allen deflected a liner by Mawrwan Nazanda, stopped a shot by Casiple and shut down a try by Daylon Schiffel.
Saturday marks the only day in Frisco where both Fire squads will compete and it also comes against the lone common opponent.
The U-15/16 Fire begin their playoff action in the morning with a match against the PA Classics while the U-17/18 play later.