Fire U-17/18 completes six-point weekend with 2-0 win over Derby County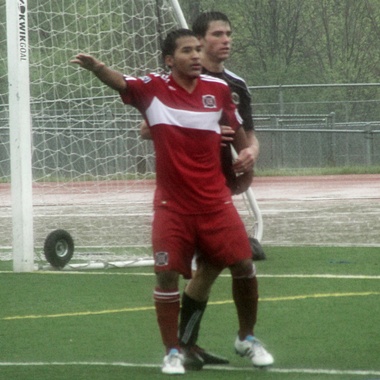 By Curt Herron
The last thing that a team needs to deal with on a cold and rainy day is to be seeking a late goal in order to influence the final outcome.
That's certainly how the Chicago Fire's U-17/18 Academy felt after it had seen things go down to the wire in its two matches prior to Sunday.
But there would be no need for any drama, such as the team's last-second penalty kick against the Columbus Crew or late score against Vardar.
The Fire scored twice during the opening 17 minutes and then made that stand as it captured a 2-0 win over Derby County in Livonia, Michigan.
After extending its unbeaten streak to four, including its first consecutive wins in Great Lakes Division play, the Fire are back in the mix.
Chicago moved to 4-3-3 in division play, which is good for 15 points and the six-point weekend in Detroit has revitalized its playoff hopes.
With six matches left, the Fire are very much in the thick of a Great Lakes Division race in which six points separate the top eight squads.
Derby County (5-4-3) leads the division with 18 points but it has played two more matches than all but one of those other eight challengers.
On a day where the conditions may have been the worst of during a poor spring, Chicago scored early and maintained its advantage throughout.
Victor Pineda made a long-range attempt in the 12th minute and Felipe Cortez scored following a cross from Jacob Brindle in the 17th minute.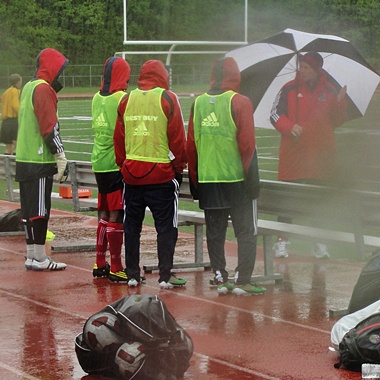 "This was a big win for us and now we're back in the hunt," Cortez said. "We needed to get a win today and getting six points this weekend was a big thing for us. We're more together as a team right now.
"We like to keep possession and even in these weather conditions we got to play like we want to. Victor's goal on the long shot was big and getting the two goals early was important and we kept that lead."
Fire keeper Zak Allen faced few challenges from the Wolves thanks to defenders Keaton Albert, Peter Beasley, Lalo Cuautle and Anthony Torres.
It was the Fire's third shutout in division play while Derby County, which beat the Fire 3-2 earlier, was blanked for just the second time.
Chicago, which had only four substitutes available, went with its starting 11 throughout the match, which was played in a steady cold rain.
Other Fire players who walked off drenched after toughing out the less-than-ideal conditions were Brady Wahl, Manny Guzman and Daniel Lojek.
"Today's game wasn't too good since it was really cold and it also wasn't the type of soccer that we like to play, but we had to get it done in some way, and we went out there and did that," Lojek said.
"It was good to get those goals early since all we had to worry about then was defending well. The first part of our season didn't go too well but we've stayed focused and now we're turning things around."
The Fire returns to division play this weekend for a pair of home matches with Sockers FC and FC Milwaukee at Toyota Park's practice field.
Both matches have been rescheduled from 11:00 a.m. to 2:00 p.m. starts, and the U-15/16 will compete right after them in 4:30 p.m. contests.